Shop For Wine
Buy wine online! select from hundreds of wines you can only find in restaurants. Whether you are searching for a full bodied cabernet sauvignon or a fresh and fun prosecco, WineWire has the wine for you.
Subscribe to our free newsletter for the inside scoop on great wines & upcoming wine events
Subscribe
Can't find the wine you love?
We can find it for you!"
Find My Wine
Featured Products
New @ Winewire
Trending Wine






J. McClelland Cellars CLASSIC NAPA VALLEY MIX CASE

Wine Type:
Style of Wine:
Various
Country of Origin:
USA
Wine Region:
California
Appellation:
Napa Valley
Grape Varietal:
Cabernet Sauvignon, Chardonnay, and Zinfandel
Bottle Format:
750mL
Case Size:
6 bottles

$377.94 Per Case ($62.99/btl)



Add to Cart


Tasting Notes

This classic mix case 3.0 contains 2 bottles of each 2017 J. McClelland Cellars Napa Cabernet Sauvignon, 2017 J. McClelland Cellars Napa Valley Chardonnay, and 2014 Lost Chapters Napa Valley Zinfandel. This trio of wines has been curated to hit all of the bases from Napa Valley. From a 93 point classic Napa Valley Cabernet Sauvignon, to a 91 point beautifully packaged Napa Valley Zinfandel, and a 93 point Chardonnay. Big & bold, deep & spicy, creamy and crisp, this mix case will surely become a favourite.




Critical Praise

CABERNET SAUVIGNON: 93 points: Tasting Panel Magazine, Gold Medal 2021: San Francisco Chronicle Wine Competition.

ZINFANDEL: 91 Points, Best Buy Wine & Spirits 2020 Issue

CHARDONNAY: Gold Medal: 2021 San Francisco Chronicle Wine Competition, 93 Points: Tasting Panel Magazine (Jan/Feb 2021) , Silver Medal: 2019 Los Angeles International Wine Competition



Comments
You may also like...

Veneto, Italy, 750mL, 12 bottles per case
This mix case contains 6 bottles of Vigna Lisa 2020 Veneto IGT Pinot Grigio and 6 bottles of 2020 Vigna Lisa Veneto IGT Cabernet Sauvignon. The Pinot Grigio ...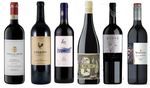 Various, 750mL, 12 bottles per case
The perfect 12 bottle mix of wines from around the globe for a tremendous value. Host your own tasting with friends & family or keep them all for yourself, ...


USA, 750mL, 4 Bottles per case
The Racing Series is comprised of 4 ultra-premium, California, red wine blends, all inspired by moments on the race track. They are the vision of a man who i...