Shop For Wine
Buy wine online! select from hundreds of wines you can only find in restaurants. Whether you are searching for a full bodied cabernet sauvignon or a fresh and fun prosecco, WineWire has the wine for you.
Subscribe to our free newsletter for the inside scoop on great wines & upcoming wine events
Subscribe
Can't find the wine you love?
We can find it for you!"
Find My Wine
Featured Products
New @ Winewire
Trending Wine






90 Point Gems of Europe From Wilson Wines

Wine Type:
Style of Wine:
Big & Bold
Country of Origin:
Various
Grape Varietal:
Cabernet Sauvignon, Tempranillo, Pinot Grigio, Sangiovese, and Merlot
Bottle Format:
750mL
Case Size:
12 bottles

$299.40 Per Case ($24.95/btl)



Add to Cart


Tasting Notes

An amazing selection of European 90 point wines.... Contains 2 whites, 10 reds.

Terra Alta Pinot Grigio, Veneto, Italy, 2018
A clean flavourful pinot grigio from the Northern reaches of Italy, waxy and honeyed, medium bodied with concentration and depth above the mean. Ripe Citrus and orchard fruit mingle with floral tones in a complex expression. Good length too. Fine Value- 90 Points John Szabo

Neleman Tempranillo Monastrell Spain-2019-Organic
This youthful blend of organically grown tempranillo and monastrell (mourvedre) shows impressive aromatic lift, with mashed field berry, cranberry, pepper, rosemary and a touch of garlic. It is light to medium-bodied, fresh and almost zesty with all kinds of peppery spice and herbs. Very juicy, easy to drink but not tempted to sweetness. The length is very good to excellent.

Il Maggio Chianti Classico DOCG 2014, Tuscany.
A terrific value from Castellina in Chianti. Combines a ray of pure cherry with coffee, spice, wild herb and tobacco flavours in a seamless way, while sanguine and iron elements chime in on the finish. Balanced, elegant, with a lingering, complex aftertaste.

Clos Mansio Red Bordeaux 2016
From the highly acclaimed 2016 vintage. A blend of 70% Merlot, 30% Malbec. The tannins are expected to soften with age and the wines wonderful acidity is likely to be preserved, going on to reveal oaky spicy notes with a tight brilliant finish.

Paradis Coteaux D'Aix en Provence RED-2015
We all know Provence produces exceptional Rose's. This RED is a terrific wine that savvy readers should snatch up! says Robert Parker
Blending Cabernet Sauvignon with Grenache and Syrah, this dense wine is packed with super ripe fruits. The dark tannins come with black chocolate from the wood aging as well as dark plum flavors.

Villa Reguela DOC RED - Douro - 2017
This is a very bright, juicy and fresh Douro red with lifted and complex aromas of currants, pomegranate, fresh greens (mint, rosemary) and wood spice. It is open knit, spicy and delicious with fine tannin and excellent length.




Critical Praise

GEMS OF EUROPE- 90+ points MiXeD case

As soon as it reaches the time of year you wake up in the dark and leave work in the dark it can become quite disheartening. At this point it's easy to start to pine after the week you spent on the Mediterranean coast summers ago.
While we don't have a time machine… or a plane, we do have the next best thing; an amazing selection of European wines from Bordeaux, Italy, Spain and Sunny Portugal that are sure to take you back to that beach, even if it has just dropped to -2°C outside

Contains 10 Reds, 2 Whites

Tera Alta Pinot Grigio, Veneto,2018, Italy- *90* points John Szabo, WA

Bodegas Neleman Tempranillo, Spain- Organic- *90* points Wine Align

Il Maggio Chianti Classico 2014 DOCG Tuscany- our number 1 seller- * 91* points WA

Chateau Clos Mansio 2016, Bordeaux, France - *90* points Decanter

Chateau Paradis Red 2015, Provence, France - *90* points Wine Enthusiast

Villa Reguela Red, Douro, 2017--Portugal- *91* points David Lawrason, WA



Comments
You may also like...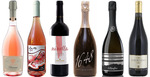 Italy, 750mL, 6 bottles per case
One bottle each of six wines from our "Italian Sweethearts" themed collection. Perfect for celebrating Valentine's Day! PIANDACCOLI "BACIAMI" SPARKLING RO...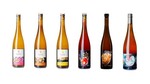 Alsace AOC, Alsace, France, 750mL, 6 bottles per case
Each case contains one bottle of the following wines: La Vigne en Rose 2018. This off-dry blend of Gewürztraminer and Riesling comes from 40 year old vin...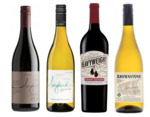 Various, 750mL, 12 bottles per case
A mixed red and white case highlighting the top varietals from both New Zealand and California. Longbend Pinot Noir 2017 (NZ) A lovely vibrant coloured...