Shop For Wine
Buy wine online! select from hundreds of wines you can only find in restaurants. Whether you are searching for a full bodied cabernet sauvignon or a fresh and fun prosecco, WineWire has the wine for you.
Subscribe to our free newsletter for the inside scoop on great wines & upcoming wine events
Subscribe
Can't find the wine you love?
We can find it for you!"
Find My Wine
Featured Products
New @ Winewire
Trending Wine






Le Sommelier mixed case: Blanville (organic, low intervention, vegan)

Wine Type:
Style of Wine:
Various
Country of Origin:
France
Wine Region:
Languedoc-Roussillon
Grape Varietal:
Chardonnay, Vermentino, Pinot Noir, Syrah, and Grenache
Bottle Format:
750mL
Case Size:
12 bottles

$275.16 Per Case ($22.93/btl)



Add to Cart


Tasting Notes

This mixed case features three bottles of the following four great value wines from Château Haut-Blanville.

White:

1. Chardonnay Roussanne Grande Réserve IGP Pays d'Oc 2018

From the stony clay-limestone of the Pays d'Oc, this blend of Chardonnay and Roussanne is rich and full with potent yellow apple, baked pear, toasty coconut on a fleshy palate. The whole is propped and lined with toasted wood. The roussanne gives an oily perfumed note to the richer white, leaving a floral white blossom on the finish, a la chardonnay musqué. Well suited to tackling creamy pasta dishes.

2. Vermentino IGP Pays d'Oc 2019

From the clay-sandy soils of Pézenas, this humble, low-intervention Vermentino (locally known as Rolle) is ripe with the southern France sun, and tight with fermentation and ageing in stainless. Golden apple, light pear, apple blossom is tightened with pear skin and finishes with a pithy tangerine and river stones. Simple and honest, and proper with your equally simple shellfish dishes.

Red:

3. Horus Red AOP Languedoc 2017

"...Horus is a blend of syrah, grenache, and cinsault. Juicy and friendly, with an alluring Languedoc scrub strong on the nose and palate, taking you directly to the south of France. Woodsy florals, plums, cherries, herbal salami and pink peppercorn. Fantastic value, honest and pure...." - 89 points Gismondi on Wine

4. Pinot Noir Grande Réserve IGP Pays d'Oc 2019

The vines are planted in the limestone and basalt (volcanic) soils of Pézenas at 100-150m, on a cool, north-facing single vineyard. Soft plum, black raspberry, light forest, moss, and cocoa powder fill the cushy palate, finishing with light tobacco and smoke. Tannins are nubby fine, and acidity is bright and lively thanks to time solely in stainless. Very good value for a varietally correct, honest French Pinot Noir.




Critical Praise

Château Haut-Blanville is a family-owned Languedoc wine estate that was founded in 1997 by Béatrice & Bernard Nivollet. The Nivollets wanted to create an estate based on the Burgundian wine model developed centuries ago, focusing on the land. Located close to Montpellier, they have been creating and crafting wines which reveal the exceptional diversity of the Languedoc. Over the past twenty years, the family have rigorously selected individual plots of land, the grapes from which are vinified separately, parcel by parcel.

Their 70 ha of vineyards extend across The Grés de Montpellier AOP, stretching from the Hérault middle valley to the Vidourle, and from the Mediterranean in the south to the Pic Saint-Loup in the north. All wines are produced naturally, without the use of any additions save for a minimal amount of sulphur upon bottling, and are in conversion to being certified vegan.



Comments
You may also like...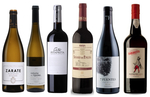 Various, 750mL, 12 bottles per case
Each case contains two bottles of the following wines: White: Zárate Albariño Val do Salnés 2019, Rías Baixas, Spain Founded in 1707, the family ow...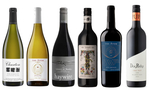 Various, 750mL, 12 bottles per case
Each case contains two bottles of the following wines: Whites: Churton Sauvignon Blanc 2018, Marlborough, New Zealand From their organic and biodyn...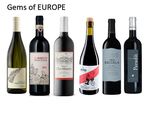 Various, 750mL, 12 bottles per case
An amazing selection of European 90 point wines.... Contains 2 whites, 10 reds. Terra Alta Pinot Grigio, Veneto, Italy, 2018 A clean flavourful pinot g...