Shop For Wine
Buy wine online! select from hundreds of wines you can only find in restaurants. Whether you are searching for a full bodied cabernet sauvignon or a fresh and fun prosecco, WineWire has the wine for you.
Subscribe to our free newsletter for the inside scoop on great wines & upcoming wine events
Subscribe
Can't find the wine you love?
We can find it for you!"
Find My Wine
Featured Products
New @ Winewire
Trending Wine






The Merchant Vintner Summer Getaway Mixed Case

Wine Type:
Style of Wine:
Various
Country of Origin:
Various
Grape Varietal:
Macabeo, Sauvignon Blanc, and Pinot Noir
Bottle Format:
750mL
Case Size:
12 bottles

$246.00 Per Case ($20.50/btl)



Add to Cart


Tasting Notes

Let your senses travel to the Mediterranean as you enjoy the warm breezes in your own backyard. This case includes 12 bottles:
4 - Maset Maria Laflor Brut, Cava, Catalonia Spain
4 - 2018 Les Jamelles Sauvignon Blanc, Languedoc, France
4 - 2017 Les Jamelles 2017 Pinot Noir, Languedoc, France

Maset Maria Laflor Brut Cava, Catalonia, Spain
Gold-amber colour with fine and persistent bubbles. The
nose is fresh and floral. The palate shows a soft, light and
slightly dry taste with hints of apple.

2018 Les Jamelles Sauvignon Blanc, Languedoc, France
Elegant gooseberry and grassy aromas on the nose. Mouth watering and fresh on the palate, with good balance of fruit flavours and racy acidity. Long lasting and strong finish. Pairs well with fish, light meals, goat cheese and as aperitif.

2017 Les Jamelles Pinot Noir, Languedoc, France
This wine really overdelivers! Medium dark colour with hints of rubies at the edge. An interesting mix of red and black fruit, light spice, floral notes plus wood and vanilla on the nose – quite intriguing. On the palate it is fullish, somewhat fat in the mouth displaying ample tannins which do not dominate the fruit in the wine nor the drinkers palate. A great match for grilled steak, or gourmet burgers.




Critical Praise



Comments
You may also like...

Champagne, Champagne, France, 750mL, 6 bottles per case
If you are new to Champagne, these wines are a great introduction to the various styles you can enjoy from this iconic sparkling wine region. If you are a pa...


France, 750mL, 12 bottles per case
Enjoy 3 distinctly amazing wines from France, a 2016 Burgundian Pinot Noir, 2016 Burgundian Chardonnay, and a 2018 Suavignon Blanc that is a wonderful blend ...
Featured on WineWire TV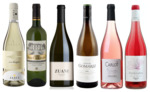 Various, 750mL, 12 bottles per case
This Mixed Case includes 12 bottles of wine of our favourite whites and rosés to beat the summer heat. Each case includes two bottles of the following wines:...
Featured on WineWire TV