Shop For Wine
Buy wine online! select from hundreds of wines you can only find in restaurants. Whether you are searching for a full bodied cabernet sauvignon or a fresh and fun prosecco, WineWire has the wine for you.
Subscribe to our free newsletter for the inside scoop on great wines & upcoming wine events
Subscribe
Can't find the wine you love?
We can find it for you!"
Find My Wine
Featured Products
New @ Winewire
Trending Wine






"Earth Day" Eco-Friendly & Organic Wine Enjoyment Pack (Mixed Case of 6)

Wine Type:
Style of Wine:
Smooth & Silky
Country of Origin:
Various
Grape Varietal:
Malbec, Sangiovese, and Montepulciano
Bottle Format:
750mL
Case Size:
6 bottles

$179.70 Per Case ($29.95/btl)



Add to Cart


Tasting Notes

Celebrate Earth Day and every day with this mixed case from small wineries that achieve the craft of great winemaking in a sustainable way. The 6 bottles include:

3 bottles of eco-friendly Malbec from Abito, a 100% solar-powered winery in Argentina >> delicious!

2 bottles of organic Sangiovese from Campo de Monte in the Chianti region >> a food-pairing favorite!

1 bottle of an organic Sangiovese blend from Le Chiantigiane, from an up-and-coming appellation in Tuscany >> unusual and super food friendly!

Brought to you by Argentum Wine Imports and The Full Wineglass Agency & Imports, serving the GTA since 2005. "We specialize in authentic wines from small traditional producers."




Critical Praise

ABITO "LA JUVENTUD" MALBEC 2019 (ARGENTINA)
This is a fruit-forward, very typical Malbec notable also for its freshness. On the nose it recalls aromas of red and black fruits and dried fruits. There are also notes of white flowers like jasmine and violets. On the palate it is unctuous and friendly, with good acidity, roundness and fullness.

PAIRING: Earthy, tangy, savory dishes like slow-cooked pulled pork, lamb or beef stew, mushrooms and sausage with a bit of spiciness.

-----

CAMPO DE MONTE ROSSO DI TOSCANA IGT SANGIOVESE ORGANIC 2018 (ITALY)
Ruby red colour. Aromas of red berries with a hint of vanilla. In the mouth, it is medium bodied with a quite tannic structure and good acidity. Cherry and spice flavours are noted.

PAIRING: This is one of our favorite food wines; it naturally complements a wide variety of foods. Suggestions include frittata al tartufo (truffle); pork roasts; tomato-based pastas and pizzas; grilled/roasted veggies; salads with olive oil, tomatoes, basil and fresh mozzarella; and aged cheeses like Parmigiano Reggiano.

-----

SASSOROTTO ROSSO DI MONTECUCCO 2017 (ITALY)
Intense ruby red which evolves to garnet red when aged. A lovely, well-balanced wine on the nose, with predominantly cherry and berry notes. Velvety and generous on the palate, with sweet, soft tannins.

PAIRING: This wine will go perfectly with most dishes, and it is particularly well suited to game, grilled meats, hearty soups, and mature cheeses.



Comments
You may also like...

Veneto, Italy, 750mL, 12 bottles per case
This mix case contains 6 bottles of Vigna Lisa 2020 Veneto IGT Pinot Grigio and 6 bottles of 2020 Vigna Lisa Veneto IGT Cabernet Sauvignon. The Pinot Grigio ...


Napa Valley, California, USA, 750mL, 6 bottles per case
This classic mix case 3.0 contains 2 bottles of each 2017 J. McClelland Cellars Napa Cabernet Sauvignon, 2017 J. McClelland Cellars Napa Valley Chardonnay, a...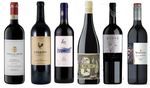 Various, 750mL, 12 bottles per case
The perfect 12 bottle mix of wines from around the globe for a tremendous value. Host your own tasting with friends & family or keep them all for yourself, ...