Shop For Wine
Buy wine online! select from hundreds of wines you can only find in restaurants. Whether you are searching for a full bodied cabernet sauvignon or a fresh and fun prosecco, WineWire has the wine for you.
Subscribe to our free newsletter for the inside scoop on great wines & upcoming wine events
Subscribe
Can't find the wine you love?
We can find it for you!"
Find My Wine
Featured Products
New @ Winewire
Trending Wine






Fire Up the BBQ Mixed 12-pack from TWC Imports

Wine Type:
Style of Wine:
Various
Country of Origin:
Various
Grape Varietal:
Bottle Format:
750mL
Case Size:
12 bottles

$347.40 Per Case ($28.95/btl)



Add to Cart


Tasting Notes

From appetizers and salads, to your main course on the grill, this selection from artisanal wine producers of Spain and Italy offers everything you need for great BBQ pairings. All are from family-owned wineries where care is taken from vineyard to grape to bottle.

Your mixed case will include two bottles of six wines (one sparkling, one white wine, and four red wines).

#1 Augustí Torelló, Mata Rosat Trepat Brut Reserva 2016 (Penedès, Spain)
Made from 100% Trepat grapes, this deeply rosé Cava was aged 18 months on the lees, and disgorged individually only as required for market. Aromas of wild berry fruits - strawberry and raspberry - with slight herbal (mint) notes. Dry, with fine, persistent bubbles, and a long finish - perfect for toasting the arrival of summer or paired with appetizers, salads, or grilled seafood.

#2 Oilvastri Tommaso, "Santa Clara" Trebbiano d'Abruzzo 2018 (Abruzzo, Italy)
From a hilltop vineyard overlooking the famous Costa dei Trabocchi, this is not your typical neutral Trebbiano. It was fermented with natural yeasts and kept on the lees for six months for added complexity. Aromas of ripe lime, peach, and tangerine citrus, with mineral and floral notes. Dry, medium-bodied, with a long, clean finish. Pair with appetizers, salads, grilled fish/shellfish, sausages, or white meats.

#3 Bodega Tajinaste, Tinto Tradicional 'Valle de la Orotava' 2018 (Canary Islands, Spain)
100% Listan Negro from vineyards planted 600m up the side of the volcano - El Teide. Fermented in stainless steel tanks, with 1/3rd of the wine aged for two months in oak barrels. Vivid aromas of fresh red fruits - cherries and plums- with peppery/balsamic notes. Dry, medium-bodied, balancing acidity, medium tannins and a clean finish. Perfect for burgers, grilled pork, or lamb skewers.

#4 Poggio Stenti, Maremma Toscana Rosso 2018 (Tuscany, Italy)
90% Sangiovese and 10% Cabernet Sauvignon, from estate vineyards in Montecucco, just across the river from Montalcino. Fermented and aged in stainless steel tanks to capture the bright flavours of the grapes. Deep aromas of ripe dark cherry and plum, with notes of mocha and earthy spices. Medium-bodied, round, and well-structured. Pair with grilled meats - hamburgers to steak - and earthy grilled vegetables.

#5 Finca Losada, Losada 2017 (Bierzo, Spain)
100% Mencia grapes - all free-run juice - fermented in stainless steel, then aged in French oak barrels for 10 months. Aromas of red fruits - plum, raspberry and cherry - with notes of vanilla spice, cocoa, violets, and anise. Dry, fuller bodied, with fine/ripe tannins, and a silky finish. Perfect for grilled and smoked meat dishes (lamb, beef, and game), rice dishes (paella), and earthier vegetarian options.

#6 Degani, Valpolicella Classico Superiore Ripasso "Cicilio" (Veneto, Italy)
A blend of Corvina, Rondinella, and Corvinone grapes made using the traditional "Ripasso" method, whereby the unpressed skins used for Amarone della Valpolicella are added to fermented Valpolicella, thus adding more body to the wine and giving it fuller, richer, aromas and flavours. After fermentation the wine is aged in small French-oak barrels for 24 months.

Rich aromas of dark cherry, and plum with spicy, mocha notes. Dry, balanced acidity, integrated tannins, medium-bodied, with a long finish. Pair with red meats (smoked, grilled or braised), or with salumi platters and aged cheese to finish the meal.




Critical Praise



Comments
You may also like...

Champagne, Champagne, France, 750mL, 6 bottles per case
If you are new to Champagne, these wines are a great introduction to the various styles you can enjoy from this iconic sparkling wine region. If you are a pa...


France, 750mL, 12 bottles per case
Enjoy 3 distinctly amazing wines from France, a 2016 Burgundian Pinot Noir, 2016 Burgundian Chardonnay, and a 2018 Suavignon Blanc that is a wonderful blend ...
Featured on WineWire TV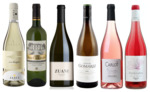 Various, 750mL, 12 bottles per case
This Mixed Case includes 12 bottles of wine of our favourite whites and rosés to beat the summer heat. Each case includes two bottles of the following wines:...
Featured on WineWire TV