Shop For Wine
Buy wine online! select from hundreds of wines you can only find in restaurants. Whether you are searching for a full bodied cabernet sauvignon or a fresh and fun prosecco, WineWire has the wine for you.
Subscribe to our free newsletter for the inside scoop on great wines & upcoming wine events
Subscribe
Can't find the wine you love?
We can find it for you!"
Find My Wine
Featured Products
New @ Winewire
Trending Wine






All The Right Grapes A Mixed Case from Spain (2)

Wine Type:
Style of Wine:
Various
Country of Origin:
Spain
Grape Varietal:
Various
Bottle Format:
750mL
Case Size:
6 bottles

$215.22 Per Case ($35.87/btl)



Add to Cart


Tasting Notes

A Mixed Case from Spain, featuring 3 premium wines from some of the top regions and producers today. 2 bottles each, so you can try them again!

1. Artuke, 2018 Pies Negros, Rioja - one of the top young producers coming out of Spain today. Tempranillo with a hint of Graciano. 'Modern' style Rioja, fresh, fruity with great acidity.
2. Marañones, 2017 Treintamil Maravedies, Sierra de Gredos - 100% Garnacha from the Gredos region west of Madrid. The winemaker is Fernando Garcia, from Commando G fame. Light on its feet, yet surprisingly complex.
3. Vinergia, 2016 Lo Tros, Priorat - a very well-made wine from Priorat, with a large percentage of Carignan to complement the Garnacha. Ripe and bold but not overly so.




Critical Praise

Marañones - RP90+



Comments
You may also like...

Champagne, Champagne, France, 750mL, 6 bottles per case
If you are new to Champagne, these wines are a great introduction to the various styles you can enjoy from this iconic sparkling wine region. If you are a pa...


France, 750mL, 12 bottles per case
Enjoy 3 distinctly amazing wines from France, a 2016 Burgundian Pinot Noir, 2016 Burgundian Chardonnay, and a 2018 Suavignon Blanc that is a wonderful blend ...
Featured on WineWire TV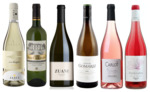 Various, 750mL, 12 bottles per case
This Mixed Case includes 12 bottles of wine of our favourite whites and rosés to beat the summer heat. Each case includes two bottles of the following wines:...
Featured on WineWire TV