Shop For Wine
Buy wine online! select from hundreds of wines you can only find in restaurants. Whether you are searching for a full bodied cabernet sauvignon or a fresh and fun prosecco, WineWire has the wine for you.
Subscribe to our free newsletter for the inside scoop on great wines & upcoming wine events
Subscribe
Can't find the wine you love?
We can find it for you!"
Find My Wine
Featured Products
New @ Winewire
Trending Wine






Airen Imports New World Red Wines

Wine Type:
Style of Wine:
Various
Country of Origin:
Various
Grape Varietal:
Various
Bottle Format:
750mL
Case Size:
12 bottles

$299.40 Per Case ($24.95/btl)



Add to Cart


Tasting Notes

Mixed Case of New World Red Wines; Argentina, Australia, USA, and New Zealand. You will receive 3 bottles of each wine highlighting the best varietals from each country. Enjoy this trip around the New World.

2015 Omrah Shiraz, from Australia
Intense blackcurrant and cranberry fruit aromatics on the nose with anise, black pepper, cocoa. Juicy fresh acidity and gentle tannin profile makes this wine an easy drinking delight.

2017 Longbend Pinot Noir, from New Zealand
The flavours in the mouth are very red berry/red cherry with fine acidity and lightly drying cherry stone tannins. The juice red fruit finish and savoury earthy herbal notes make for a finish that leaves you thinking food.

2015 Makia Malbec, from Argentina
Intense ruby colour with violet shades. Complex nose with cherry and red fruit notes. The taste is delicate with good structure and persistence.

2016 Heavyweight Cabernet, from California
The sweet aromatics of this big bold Cabernet, with smooth tannin, black & raspberry currents followed by other dark fruits flavors. Finishing strong yet balanced rich sweet fruit.




Critical Praise



Comments
You may also like...

Champagne, Champagne, France, 750mL, 6 bottles per case
If you are new to Champagne, these wines are a great introduction to the various styles you can enjoy from this iconic sparkling wine region. If you are a pa...


France, 750mL, 12 bottles per case
Enjoy 3 distinctly amazing wines from France, a 2016 Burgundian Pinot Noir, 2016 Burgundian Chardonnay, and a 2018 Suavignon Blanc that is a wonderful blend ...
Featured on WineWire TV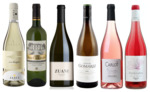 Various, 750mL, 12 bottles per case
This Mixed Case includes 12 bottles of wine of our favourite whites and rosés to beat the summer heat. Each case includes two bottles of the following wines:...
Featured on WineWire TV