Shop For Wine
Buy wine online! select from hundreds of wines you can only find in restaurants. Whether you are searching for a full bodied cabernet sauvignon or a fresh and fun prosecco, WineWire has the wine for you.
Subscribe to our free newsletter for the inside scoop on great wines & upcoming wine events
Subscribe
Can't find the wine you love?
We can find it for you!"
Find My Wine
Featured Products
New @ Winewire
Trending Wine






CALIFORNIA SAMPLER CASE FROM CORK WINES AND WHISKEYS

Wine Type:
Style of Wine:
Light & Fruity
Country of Origin:
USA
Wine Region:
California
Appellation:
Lodi
Grape Varietal:
Various
Bottle Format:
750mL
Case Size:
12 bottles

$281.40 Per Case ($23.45/btl)



Add to Cart


Tasting Notes

Nothing is quite as inviting as California wines created to fill the glasses of friends and family around the dinner table. We invite you to REACH FOR THE RIDGE and enjoy your favorite Red, White or Rosé.

Our Reds have gentle tannins and dark berry fruit flavors with a smooth finish. Try our Ridge Red or Sweet Red CHILLED in the summer months - they are refreshing!

Our Whites are crisp, filled with citrus flavors, unoaked and ready to get any meal started the right way.

Our Blush wines are ideal anytime! Whether you're sharing spicy appetizers or a warm weather barbecue, these crisp, refreshing ripe fruit flavors are sure to please.

Enjoy 4 Cabernet Sauvignon, 4 Pinot Noir, and 4 Chardonnay!




Critical Praise



Comments
You may also like...

Champagne, Champagne, France, 750mL, 6 bottles per case
If you are new to Champagne, these wines are a great introduction to the various styles you can enjoy from this iconic sparkling wine region. If you are a pa...


France, 750mL, 12 bottles per case
Enjoy 3 distinctly amazing wines from France, a 2016 Burgundian Pinot Noir, 2016 Burgundian Chardonnay, and a 2018 Suavignon Blanc that is a wonderful blend ...
Featured on WineWire TV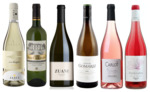 Various, 750mL, 12 bottles per case
This Mixed Case includes 12 bottles of wine of our favourite whites and rosés to beat the summer heat. Each case includes two bottles of the following wines:...
Featured on WineWire TV