Shop For Wine
Buy wine online! select from hundreds of wines you can only find in restaurants. Whether you are searching for a full bodied cabernet sauvignon or a fresh and fun prosecco, WineWire has the wine for you.






Le Sommelier Mixed Case: Fall Feels

Wine Type:
Style of Wine:
Various
Country of Origin:
Various
Grape Varietal:
Various
Bottle Format:
750mL
Case Size:
12 bottles

$306.24 Per Case ($25.52/btl)



Add to Cart


Tasting Notes

Each case contains two bottles of the following wines:

White:

FitaPreta White Vinho Alentejano 2019, Alentejo, Portugal

This blend of Roupeiro, Rabo de Ovelha, Antão Vaz, Tamarez, Alicante Branco, and Arinto are sourced from granitic soils of Alentejo, and vines from 30-47 years, up to 400m in altitude. After a native ferment in stainless barrels, this remained there on lees for 6 months prior to bottling. As one would expect from the grapes / soil / winemaker Antonio Maçanita, this is layered and complexed wine, with decomposed stones infiltrating quince, green apple, pear skin, pine nuts, scrubby herbs and potent mineral salts. The mineral bodied palate has a vine veil of wax to support, finishing with a lingering granitic grip. Not about fruit, all about place. Fantastic authentic Alentejano snapshot now, and will age beautifully.

Ciù Ciù Oris Falerio Marche IGP 2018, Marche, Italy

Ciù Ciù was founded in 1970 by Natalino Bartolomei and Anna Maria Iobbi, just a few kilometers from the legendary medieval town of Offida. Today, brothers Massimiliano and Walter Bartolomei continue their father Natalino's work. Oris is a blend of Trebbiano, Pecorino, and Passerina, grown in the towns of Offida and Acquaviva Picena, in Ascoli Piceno province at 300m. This was native fermented in stainless, and left to settle for 4 months. Brilliant, pale yellow with green hues, this wine has an enticing tropical fruit driven nose, with notes of honeysuckle, lychee, peach pit, spearmint, fresh almonds and a touch of white pepper.

Red:

Blanville Horus Red 2017, Languedoc, France

Château Haut-Blanville is a family-owned wine estate founded in 1997 by Béatrice & Bernard Nivollet. Their goal was to find unique vineyard sites and produce single parcel, low-intervention wines when most of the local wineries were producing volume and bulk. They now own 70 hectares of vineyards, and make a range of single site wines, as well as regional blends like this. Horus is a blend of Syrah, Grenache, and Cinsault, Juicy and friendly, this has an alluring Languedoc scrub strong on the nose and palate, taking you directly to the south of France. Woodsy florals, plums, cherries, herbal salami and pink peppercorn. Fantastic value, honest and pure. En route to being organic and vegan certified.

FitaPreta Tinto Vinho Alentejano 2018, Alentejo, Portugal

This characterful blend of Aragonez, Alicante Bouschet, and Trincadeira comes from the rocky schistous vineyards of Alentejo, and vines planted 1979-1989 at 300-400m. After native ferment in stainless, this rested 9 months between French barrel and stainless. Bright and lively with tobacco, branch, black raspberry and red currant, this medium bodied red is bedded on stones, seasoned with rock roses, and spiced with subtle red pepper on the finish. Tannins are grippy and fine, and acidity is brisk throughout, easily carrying the 14.5 degrees.

Olivier Coste Cinsault Pays d'Oc IGP 2019, Languedoc, France

Since his childhood, Olivier Coste's favourite places to play have been the vineyards and the family wine cellar at Domaine Montrose, his family's wine estate founded in 1701 in Pézenas. With this upbringing, Olivier developed a profound attachment to the Languedoc's terroir and landscape, and later to its wines. This French Cinsault reminds of new wave South Africa, wild with sap, resin, light pitch and spiced red fruits amidst darting florals, and an infiltration of light peppercorn. Lightly sticky tannins are reflective of the southern France environment. Lovely with a light chill.

Jorche Soltema Primitivo del Salento IGP 2017, Puglia, Italy

Dalila and Emanuela Gianfreda are fifth generation winemakers at Jorche, overseeing the 31 hectares of vines surrounding their Salento estate. This Primitivo grows in the red, iron-oxide rich sandstones throughout the estate. This aged 9 months in barrels and 3 months in bottle prior to release. Soft and sun-ripened cassis, wild plum and dark cherry flood the full palate, bound by cushy tannins and finishing with savoury baking spices.




Critical Praise

Estimated delivery time is 3-10 business days.



Comments
You may also like...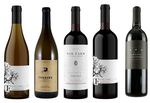 California, USA, 750mL, 12 bottles per case
Check out our California BEST VALUES Mixed Case- All wines have 90 points or higher! OAK FARM CHARDONNAY 2019 Fresh, medium bodied white wine with not...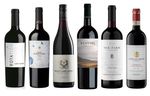 Various, 750mL, 12 bottles per case
ENJOY for delicious FALL SIPPING! Mixed Reds- 2 bottles of each RED Il MAGGIO CHIANTI CLASSICO DOCG, TUSCANY,ITALY 2014 A terrific value from Castellin...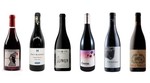 Various, 750mL, 12 bottles per case
Each case contains two bottles of the following wines: La Soeur Cadette Juliénas 2018, Beaujolais, France Valentin Montenay wanted to highlight the les...
Featured on WineWire TV