Shop For Wine
Buy wine online! select from hundreds of wines you can only find in restaurants. Whether you are searching for a full bodied cabernet sauvignon or a fresh and fun prosecco, WineWire has the wine for you.






Sottano Judas Malbec 2018

Wine Type:
Style of Wine:
Big & Bold
Country of Origin:
Argentina
Wine Region:
Mendoza
Grape Varietal:
Malbec
Bottle Format:
750mL
Case Size:
3 bottles

$373.32 Per Case ($124.44/btl)



Add to Cart


Tasting Notes

Truly a superb and outstanding wine in a class by itself.

Deep, rich garnet colour with black highlights. Notes of cherries, spices, tobacco, cassis, white pepper, and cloves with a hint of chocolate and mint. This is a well-balanced wine with a rich, bold, fruity palate. Sweet and velvety tannins. The extraordinary and unique complex of aromas lingers throughout a very long finish.

Brought to you by Argentum Wine Imports, serving the GTA since 2005. "We specialize in authentic wines from small traditional producers."




Critical Praise

Check out recent ratings and reviews by searching for Sottano Judas Malbec 2018 at Vivino:

> Currently aggregated at 4.6 out of 5 stars.

> 4.4+ consistently for the past 14 vintages.

> Amazing!



Comments
You may also like...

Castile and León, Spain, 750mL, 6 bottles per case
These wines are a dream fulfilled for Sara Martinez-Lagos and León Flórez, who combined have more than 25 years experience in the wine trade. They chose the ...


Okanagan Valley, British Columbia, Canada, 750mL, 12 bottles per case
From Burrowing Owl estate vineyards in Osoyoos and Oliver, this wine aged for 14 months in French, American, Hungarian, and Russian oak. The result, as you m...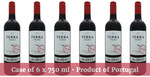 Portugal, 750mL, 6 bottles per case
As noted on its label, this is a wine with no added sulfites. Aromas of ripe dark cherries and fresh blackberries. Smooth and rich tannins with a well-bal...