Shop For Wine
Buy wine online! select from hundreds of wines you can only find in restaurants. Whether you are searching for a full bodied cabernet sauvignon or a fresh and fun prosecco, WineWire has the wine for you.






Jokin Aranzabal Harreguy Txakoli Katalin Iturzaeta 2019

Wine Type:
Style of Wine:
Light & Crisp
Country of Origin:
Spain
Wine Region:
Basque Country
Appellation:
Getaria Txakoli
Grape Varietal:
Hondarrabi Zuri and Hondarribi Beltza
Bottle Format:
750mL
Case Size:
12 bottles

$384.00 Per Case ($32.00/btl)






Tasting Notes

The traditions of growing grapes and making wine in the Basque region of Spain date back thousands of years. Early vineyards were located near the coastal towns to supply the local demand for wine. The first references to "txakoli" date to the 17th century, but it is only in the latter half of the 20th century that the regional wines started to make their mark. The Getariako Txakolina DO was created in 1989.

The winery was established before the creation of the DO by Antonio Aranzábal, to pay homage to his mother Kattalin Iturzaeta and the tiny plot (0.7 Ha) of ancient hilltop vines he inherited. Due to a declining market for Txakoli wines, the vines were at risk of being torn up and replaced by fruit trees, and Antonio, seeing a greater vision for Txakoli, did not want to see this happen. He was the first in the region to acquire temperature-controlled stainless steel tanks to enhance the flavour profile of the Txakolina, and also established quality targets that were otherwise absent in the region at that time. Now under Jokin's stewardship, the uncompromising standards set by Antonio continue with an annual production of less than 6000 bottles, depending of the vintage.

White Txakoli (pronounced chak-oh-lee) is traditionally made from a Basque grape called Hondarribi-Zuri (pronounced on-dar-ee-bee zoo-ree) - same grape as the French grape Courbu Blanc - but this wine also uses approximately 15% of the dark-skinned Hondarribi grape called Beltza, vinified as a white grape (no skin contact). The grapes are grown on south-facing slopes of Aitako, at a height of 60 metres above sea level, just a few kilometres from the Cantabrian Sea. Three-quarters of the vines are over 100 years old, while the rest at over 30 years old.

Fermentation took place in temperature-controlled stainless steel tanks to retain the intense, fresh aromatics of the grape, and the wine is aged in stainless steel, on the lees, for 7-8 months before bottling. The wine did not undergo malolactic fermentation. 11.5 alc./vol., R.S. 8.4 gr./L.; acidity 8.4 gr./L.

Our Tasting Note: Bright, straw yellow colour. with golden tints. Complex, tropical aromas of apple, lime zest, grapefruit, and melon, with herbal/floral (Jasmine) and stony/mineral notes. Medium palate, zesty acidity, slight CO2 zip, and a dry, lingering, clean finish.

Pairing: Grilled seafood, oysters, sushi, white meats, and spicier-style dishes.




Critical Praise



Comments
You may also like...

Dão, Portugal, 750mL, 12 bottles per case
A blend of local grape varieties Viosinho, Moscatel Galego Branco & Rabigato from selected north-facing vineyards in the Douro Valley. After spontaneous fer...
Add to Cart$284.40 Per Case ($23.70/btl)

Out Of Stock, Expected: Jun, 2022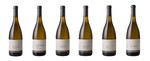 Burgundy, France, 750mL, 6 bottles per case
Each case contains the following wines: 1 x Bourgogne Chardonnay 2020. From Savigny-les-Beaune, Chorey-les-Beaune, and Puligny, this was native ferment...


Mendoza, Argentina, 750mL, 12 bottles per case
A fresh style of Sauvignon Blanc that is dry, medium-bodied, with lively acidity. The fruit shows tart and ripe grapefruit with lemon zest, cape gooseberry a...