Shop For Wine
Buy wine online! select from hundreds of wines you can only find in restaurants. Whether you are searching for a full bodied cabernet sauvignon or a fresh and fun prosecco, WineWire has the wine for you.
Subscribe to our free newsletter for the inside scoop on great wines & upcoming wine events
Subscribe
Can't find the wine you love?
We can find it for you!"
Find My Wine
Featured Products
New @ Winewire
Trending Wine






Domaine de Bellene 2018 Whites Mixed Case From Nicholas Pearce Wines

Wine Type:
Style of Wine:
Various
Country of Origin:
France
Wine Region:
Burgundy
Grape Varietal:
Chardonnay
Bottle Format:
750mL
Case Size:
6 bottles

$419.70 Per Case ($69.95/btl)



Add to Cart


Tasting Notes

Travel through the different Burgundian climats and appellations with this Mixed Case, featuring a selection of six whites from Domaine de Bellene's 2018 vintage. Early indicators and local winemakers are suggesting that 2018 could become one of the greats vintages in the home of Chardonnay, even comparable to the legendary 1947. Wether you want to sip some mineral and fresh Chardonnay right away or hold some bottles in your cellar, this is the right Mixed Case for you!

Wines included
2 x Savigny-les-Beaune Blanc 2018 ($49/bottle ~ 92pts Decanter - Best Value 2018 Burgundy)
2 x L'Eclos des Abeilles, Côteaux Bourguignons 2018 ($30/bottle)
1 x Santenay - Les Charmes Dessus 2018 ($49/bottle)
1 x Meursault Les Forges 2018 ($115/bottle)

Domaine de Bellene was founded in 2005 by Nicolas Potel after the purchase of various old vines in some of the best plots of Burgundy. Nicolas Potel is an iconic producer in Burgundy, who grew up in a family dedicated entirely to wine in Volnay's Domaine de la Pousse d'Or.

Domaine de Bellene produces their wines following organic farming methods and they have always sought to cultivate their vines in the respect of the soil. They aim to yield very healthy grapes of the highest quality in terms of phenology and they want their wines to express the terroir from which they come. At Domaine de Bellene, they truly act on behalf of the environment, with a strong focus on the preservation of nature and terroir.

*This product is part of a special LCBO Offer. It will take approximately 3-4 weeks to be delivered*




Critical Praise



Comments
You may also like...

Champagne, Champagne, France, 750mL, 6 bottles per case
If you are new to Champagne, these wines are a great introduction to the various styles you can enjoy from this iconic sparkling wine region. If you are a pa...


France, 750mL, 12 bottles per case
Enjoy 3 distinctly amazing wines from France, a 2016 Burgundian Pinot Noir, 2016 Burgundian Chardonnay, and a 2018 Suavignon Blanc that is a wonderful blend ...
Featured on WineWire TV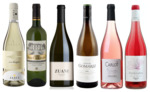 Various, 750mL, 12 bottles per case
This Mixed Case includes 12 bottles of wine of our favourite whites and rosés to beat the summer heat. Each case includes two bottles of the following wines:...
Featured on WineWire TV