Shop For Wine
Buy wine online! select from hundreds of wines you can only find in restaurants. Whether you are searching for a full bodied cabernet sauvignon or a fresh and fun prosecco, WineWire has the wine for you.






Fio Wines Das Riesling Mixed Case

Wine Type:
Style of Wine:
Fruity & Smooth
Country of Origin:
Germany
Wine Region:
Mosel
Grape Varietal:
Riesling
Bottle Format:
750mL
Case Size:
6 bottles

$243.60 Per Case ($40.60/btl)






Tasting Notes

Fio Wines started with a shared vision; old school wines using long elevage & traditional techniques to deliver natural stabilization. The 3 visionaries behind Fio wines are Mosel winegrower Philipp Kettern, Douro and Portuguese wine Maestro Dirk Niepoort & his son Daniel Niepoort. It had to be Mosel with its spectacular steep unique terroir & it coild only be Riesling the world's most noble grape. The three create natural raw wines that are full of character and finesse. Enjoy 4 varying wine styles of Fio's vision. Summer is Here!

Piu Piu Pet Nat Riesling NV (1 Btl)
Riesling, but with a lovely, fine fizz. Part barrel-aged, but all grapes are from Grand Cru vines. This experimental wine is truly 'natural', with no added sulphites and of course unfiltered. Cloudy and raw with fine bubbles and orchard fruit. pleasantly dry finish with good salinity.

JoJo Riesling Orange Wine'18 (1 Btl)
Mosel Orange Wine (skin Contact) "JoJo" displays an intense golden-yellow color and a yeasty bouquet with fine, coolish, fresh, "natural," darker toned and spicy orange fruit and citrus zest aromas as well as notes of apple must. On the palate, this is a more light than medium-bodied, lush, bright and elegant Riesling from Piesport's coolish Freudenburg single vineyard. Partly fermented on the mash, this is a very attractive, elegant, beautifully balanced but structured orange wine with very fine tannins and a stimulatingly clear, fresh and salty finish. It's not very complex or powerful, but it is finely boned and has very nice purity and delicious character. This is also a great joy to drink due to its fine bitterness on the finish. Just 10.5% alcohol. Fabulous.

Teppo Riesling'18 (2 Btl)
Displays an intense yet pure, fresh, elegant and well-defined nose of perfectly ripe white fruit aromas, such as apples and pears, intertwined with delicate spicy slate and yeasty notes. Medium-bodied, lush and charmingly round on the quiet and balanced palate, with vivacious mineral acidity and lingering salinity, this is a classic Mosel Riesling with a vinous texture rather than crystalline purity and raciness, without the sharp reductive character of so many Mosel wines. The finish is juicy and pretty intense but also structured by fine tannins, with sur lie notes and a salty-mineral drive and tension. This is a serious and vinous but still young Riesling with class and aging potential. Just 10.5% alcohol.
Decante for 30 min for optimal enjoyment

Ratzelhaft Riesling'18 (2 Btl)
The 2018 Mosel Riesling Rätzelhaft is clear, seriously intense, mineral and even floral on the spicy-slatey, complex nose with its crushed stone aromas. The palate is intense yet pure, refined and dry, with good tension and stimulating grip on the finish. Good length. This is an excellent wine to have with many different kinds of dishes, including seafood or just on its own




Critical Praise



Comments
You may also like...

Veneto, Italy, 750mL, 12 bottles per case
This mix case contains 6 bottles of Vigna Lisa 2020 Veneto IGT Pinot Grigio and 6 bottles of 2020 Vigna Lisa Veneto IGT Cabernet Sauvignon. The Pinot Grigio ...


Napa Valley, California, USA, 750mL, 6 bottles per case
This classic mix case 3.0 contains 2 bottles of each 2017 J. McClelland Cellars Napa Cabernet Sauvignon, 2017 J. McClelland Cellars Napa Valley Chardonnay, a...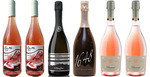 Italy, 750mL, 6 bottles per case
Lovely to look at and to sip, this mix of rosé and sparkling Italian wines make a tasteful gift. Quality and versatility are the hallmarks of these beauties....