Shop For Wine
Buy wine online! select from hundreds of wines you can only find in restaurants. Whether you are searching for a full bodied cabernet sauvignon or a fresh and fun prosecco, WineWire has the wine for you.






Le Sommelier Mixed Case: Orange Wines

Wine Type:
Style of Wine:
Various
Country of Origin:
Various
Grape Varietal:
Bottle Format:
750mL
Case Size:
6 bottles

$344.70 Per Case ($57.45/btl)



Add to Cart


Tasting Notes

Each case contains one bottle of the following wines:

Zidarich Vitovska 2018, IGT Venezia Giulia, Friuli, Italy. $57.95
Vitovska is an indigenous grape specific to the Friulian region of Carso, a very rocky region that borders Slovenia. It is a natural cross between Malvasia Bianca Lungo and Prosecco Tondo. Benjamin and his wife Marisa Zidarich tend 8 hectares here in a naturalist, non-intervention vein. The Vitovska Bianco is one of their flagship wines, from 6-30 year old vines grown on extremely rocky calcarious soils between 260-280m in altitude. After native ferment and a moderate time on the skins, this spent two years in old Slovenian oak before being bottled unfined and unfiltered. This skin contact wine is an impressive show of force, with primal grip of tannins, orange, rose petals, crushed rock. There's some light apricot fuzz, orange oil that lingers on the lengthy, humming, saline, limestone laced finish. Lovely structure with density and firm, fine grippy tannins that stream the long length and ensure its spot in your cellar. If you can wait, that is; this is drinking beautifully now.

Hajszan Neumann NATURAL Muskateller 2018, Austria. $51.95
A pierce of apricot and orange oil drives through elderflower, sour mash, and Asian pear on this slim, grippy, and brisk natural wine. Biodynamic, and natural, this Muskateller came from the limestone, clay and chalk soils of Neuberg vineyard, on the Wiener Nussberg. The wine native fermented on skins in concrete eggs, staying there for five months, after which it was carefully racked to older 500L barrels where it remained for 6 weeks. This went to bottle without fining, filtration or sulphur. Natural is Fritz Wieninger's experimental range of wines.

Draga Miklus Jakot Francesco 2017, Collio, Friuli, Italy. $51.95
This Friulano is named Jakot, which is the backwards spelling of Tokaj (a name they're no longer allowed to use for the grape). Pouring a glowing dark peach / amber hue, this natural Friulano comes from 63 year old vines rooted in the hills of Collio, and its layered marl and sandstone soils, known as ponca. This had 12 days of skin maceration and a native ferment in wooden barrels, before ageing in large oak for 24 months, and bottled unfiltered. This pours a glowing deep yellow, with potent candied lemon, marmalade, bergamot tea, yellow pear, and almond flooding the medium bodied (13%) palate. Lovely balance and harmony between acidity, alcohol, and fruit, with a gentle rasp of skin tannins, to make this feel seamless.

Free Form Sauvignon Blanc 2018, BC VQA Okanagan Valley, BC, Canada. $35.95
This savvy comes from Summerland's Waters & Banks Vineyard, and its granite / limestone slopes. This was native fermented in stainless and amphora, where it aged on skins for 9 months (whole bunch). After pressing, it rested for an additional 2 months prior to bottling unfiltered. This is not your typical Sauvignon Blanc, and that's the exact point. The time on skins gives it a textural, grippy dimension, with apricot skin, bergamot, guava, white grapefruit peel ruling the tight, taut, herbal frame. The finish snaps with citrus and desert sage, lingering after the slender orange wine is long gone. Very well handled.

1701 Surnàt NV, IGT Sebino Bianco Amphora, Lombardia, Italy. $40.95
1701 Franciacorta is a 10 hectare biodynamic certified estate, the first and only certified biodynamic producer in the Franciacorta region. This Chardonnay had 1/3 undergoing 1 week skin contact, prior to fermenting and aging on lees in amphora for 8 months. Crystalline quince and lemon pith is livened with buzzy stony soils, on a zippy green apple base, with a stencil of grip around the sides. Quite fresh and lively, this is a complete wine, drinking very well now.

FitaPreta a Laranja Mecânica 2020, VR Alentejano, Portugal. $28.95
This is the third vintage of Antonio Maçanita's orange wine, his Clockwork Orange. Arinto, Roupeiro, Verdelho, Antão Vaz, Alicante Branco, Trincadeira-das-Pratas, Fernão Pires make up the Alentejo coferment blend, from various vineyards and vines 15-50 years old, on granite soils. After the first whole bunch pressing, 10-15% of the remaining juice macerated on the skins for a week, and then was pressed again and reunited with the whole, where it native fermented. It remained in stainless on lees until it was bottled, unfiltered, the following fall. Pouring a hazy golden hue, this orange wine is teeming with alluring bergamot, quince, and stencilled with finely grippy tannins and that characteristic granitic hum. Fantastic texture, salinity, and moreishness in this medium bodied wine.




Critical Praise

What is orange wine?

First off, it's not about the hue, which really is more amber, and ranges from pale yellow gold to deeper bronze. It's the process. Orange wines are white wines made like red wines; the juice is fermented with the skins, leaving them in contact from a week up through a year. This gives the wine its characteristic hue, but also a fuller body, higher phenolic content and more tannins and grip on the palate. A better (though less colourful) name would be "skin contact whites". An ancient winemaking technique, these wines are common from areas with lengthy winemaking traditions like Georgia, Slovenia, Croatia and eastern Italy, though are also found from naturalist winemakers around the globe.. Befitting tradition, few, if any, additives are often used, and alternative vessels like amphora and concrete are usually engaged, making orange wines highly prevalent amongst the natural wine set. Orange wines most often are made from aromatic white grapes such as pinot gris, sauvignon blanc, friulano, ribolla gialla and muscat, focusing the honeyed notes, extracting the fragrance of citrus oils and exemplifying the savoury goodness. Nutty, oxidative and salty notes are common descriptors for these compelling wines. The best are light and thrilling, while holding texture and body; an alluring combination.

Estimated delivery time is 3-10 business days



Comments
You may also like...

Veneto, Italy, 750mL, 12 bottles per case
This mix case contains 6 bottles of Vigna Lisa 2020 Veneto IGT Pinot Grigio and 6 bottles of 2020 Vigna Lisa Veneto IGT Cabernet Sauvignon. The Pinot Grigio ...


Napa Valley, California, USA, 750mL, 6 bottles per case
This classic mix case 3.0 contains 2 bottles of each 2017 J. McClelland Cellars Napa Cabernet Sauvignon, 2017 J. McClelland Cellars Napa Valley Chardonnay, a...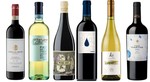 Various, 750mL, 6 bottles per case
Easy Peasy Gift of Six.... Hand-picked for value that over deliver! DILIGO Pinot Grigio DOC delle Venezie, Italy, 2022 A clean flavourful pinot grigi...