Shop For Wine
Buy wine online! select from hundreds of wines you can only find in restaurants. Whether you are searching for a full bodied cabernet sauvignon or a fresh and fun prosecco, WineWire has the wine for you.






Ciù Ciù "Oris" Falerio DOP (organic & vegan) 2020

Wine Type:
Style of Wine:
Light & Crisp
Country of Origin:
Italy
Wine Region:
Marche
Grape Varietal:
Trebbiano and Pecorino
Bottle Format:
750mL
Case Size:
12 bottles

$245.76 Per Case ($20.48/btl)



Add to Cart


Tasting Notes

Blend of Pecorino, Passerina and Trebbiano. All grapes are grown organically, without any systemic fungicides, pesticides or herbicides. Fermented in 100% stainless steel. The vineyard is trained as spur pruned cordon, in the towns of Offida and Acquaviva Picena, in Ascoli Piceno province at 250-300 metres above sea level.

Tasting notes: Brilliant, pale yellow with green hues, this wine has an enticing tropical-fruit driven nose. Notes of honeysuckle, lychee, peach pit, spearmint, fresh almonds and a touch of white pepper are evident on the nose. On the palate, the wine is medium bodied, with balanced alcohol and acid. The weight of the wine is plump, fresh and viscous, with a caressing mouthfeel. Creamy lychee, almonds and crushed rock fill the mouth and linger on a medium to long finish. Delicious, fun and fruity, enjoy now with grilled chicken or a l'aperitif with a variety hors d'oeuvres, including spicy shrimp, sashimi or prosciutto.

Certified organic and vegan.

13.0% Alc./Vol.




Critical Praise



Video Tasting
As featured on WineWire TV
Nov 1, 2012

In this episode of WineWire TV, Adam and Nelson search out some incredible values and taste three white wines all und...
Comments
You may also like...

Dão, Portugal, 750mL, 12 bottles per case
A blend of local grape varieties Viosinho, Moscatel Galego Branco & Rabigato from selected north-facing vineyards in the Douro Valley. After spontaneous fer...
Add to Cart$284.40 Per Case ($23.70/btl)

Out Of Stock, Expected: Jun, 2022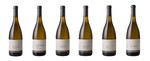 Burgundy, France, 750mL, 6 bottles per case
Each case contains the following wines: 1 x Bourgogne Chardonnay 2020. From Savigny-les-Beaune, Chorey-les-Beaune, and Puligny, this was native ferment...


Mendoza, Argentina, 750mL, 12 bottles per case
A fresh style of Sauvignon Blanc that is dry, medium-bodied, with lively acidity. The fruit shows tart and ripe grapefruit with lemon zest, cape gooseberry a...