Shop For Wine
Buy wine online! select from hundreds of wines you can only find in restaurants. Whether you are searching for a full bodied cabernet sauvignon or a fresh and fun prosecco, WineWire has the wine for you.






Chateau Haut-Grelot Tradition Blanc, Premiere Cotes de Blaye, Bordeaux 2021

Wine Type:
Style of Wine:
Fruity & Smooth
Country of Origin:
France
Wine Region:
Bordeaux
Appellation:
Cotes De Bourg
Grape Varietal:
Sauvignon Blanc and Sémillon
Bottle Format:
750mL
Case Size:
12 bottles

$275.40 Per Case ($22.95/btl)



Add to Cart


Tasting Notes

This is a classic Bordeaux Blend: 90% Sauvignon Blanc, 5% Sémillon & 5% Muscadelle.

Château Haut Grelot is located near the Gironde Estuaire, North of the town of Bordeaux and in front of the Medoc region. This winery has been making wine and taking great care of their vines since its establishment in 1920!

This Sauvignon Blanc-based blend is a floral, crisp and elegant wine that's just right to drink by itself or pair with seafood, chicken, fresh salads and cheese boards. It has a bright pale straw-yellow colour. On the nose, it's got intense exotic fruit aromas: grapefruit, gooseberry and wild herbs intermingle with ample citrus fruit on the palate. On the plate it has a generous weight, roundness and a perfect balance that let's you savour every drop.




Critical Praise

This wine wins numerous Gold medals annually at prestigious wine competitions such as; Concours de Bordeaux, Concours Mondial de Bruxelles and Concours Agricole de Paris.



Comments
You may also like...

Dão, Portugal, 750mL, 12 bottles per case
A blend of local grape varieties Viosinho, Moscatel Galego Branco & Rabigato from selected north-facing vineyards in the Douro Valley. After spontaneous fer...
Add to Cart$284.40 Per Case ($23.70/btl)

Out Of Stock, Expected: Jun, 2022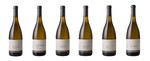 Burgundy, France, 750mL, 6 bottles per case
Each case contains the following wines: 1 x Bourgogne Chardonnay 2020. From Savigny-les-Beaune, Chorey-les-Beaune, and Puligny, this was native ferment...


Mendoza, Argentina, 750mL, 12 bottles per case
A fresh style of Sauvignon Blanc that is dry, medium-bodied, with lively acidity. The fruit shows tart and ripe grapefruit with lemon zest, cape gooseberry a...