Shop For Wine
Buy wine online! select from hundreds of wines you can only find in restaurants. Whether you are searching for a full bodied cabernet sauvignon or a fresh and fun prosecco, WineWire has the wine for you.






Pardevalles Albarin Blanco DO Terra de Leone 2016

Wine Type:
Style of Wine:
Light & Crisp
Country of Origin:
Spain
Grape Varietal:
Bottle Format:
750mL
Case Size:
12 bottles

$323.40 Per Case ($26.95/btl)






Tasting Notes

A straw yellow color wine with green reflections. On the nose there are predominate fruity notes and touches of vegetables, typical of the Albarín grape. In the mouth it is fresh, acidic, fruity, with considerable body and with a tasty and persistent palate. The Albarín grape is indigenous grape from the south of the province of Leon and Asturias. This grape variety has almost dis- appeared yet Pardevalles have recuperated it. They have planted 3 Ha of vineyard with Albarín grapes from which they elaborate their white wine. After a rigorous selection during the vintage and a careful transportation; the destemmed grape bunches are placed in stainless steel deposits where they will be subject to a prefermentative cold maceration during two days. After this process, the grape juice is separated from the skins and stems of the grapes. The grape juice is fermented with a constant temperature below 15oC. When the fermentation is completed, the wine is clarified, filtered and bottled.




Critical Praise



Comments
You may also like...

Dão, Portugal, 750mL, 12 bottles per case
A blend of local grape varieties Viosinho, Moscatel Galego Branco & Rabigato from selected north-facing vineyards in the Douro Valley. After spontaneous fer...
Add to Cart$284.40 Per Case ($23.70/btl)

Out Of Stock, Expected: Jun, 2022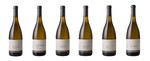 Burgundy, France, 750mL, 6 bottles per case
Each case contains the following wines: 1 x Bourgogne Chardonnay 2020. From Savigny-les-Beaune, Chorey-les-Beaune, and Puligny, this was native ferment...


Mendoza, Argentina, 750mL, 12 bottles per case
A fresh style of Sauvignon Blanc that is dry, medium-bodied, with lively acidity. The fruit shows tart and ripe grapefruit with lemon zest, cape gooseberry a...