Shop For Wine
Buy wine online! select from hundreds of wines you can only find in restaurants. Whether you are searching for a full bodied cabernet sauvignon or a fresh and fun prosecco, WineWire has the wine for you.






Le Sabina Vermentino - Clos Del Rey - Cotes de Roussillon 2016

Wine Type:
Style of Wine:
Fruity & Smooth
Country of Origin:
France
Wine Region:
Languedoc-Roussillon
Grape Varietal:
Vermentino
Bottle Format:
750mL
Case Size:
12 bottles

$299.40 Per Case ($24.95/btl)






Tasting Notes

In the foothills of the Pyrénées Mountains, not far from the Mediterranean sea, Clos del Rey is situated in the center of almost 900 acres in the tiny village of Maury. The estate has been owned and farmed by the Montagne family since 2001. The vineyard itself is nestled among a protected area of garrigues (rosemary, thyme, cistus.) Vines of up to 120 years of age are allowed to grow natural and untrained, in the old-fashioned way, known as the goblet/bush style. Though, it is what lies beneath the vineyard that lends much of the character and complexity found in their wines. An abandoned iron mine resides on the property, imparting red and orange hues to the soils of Clos del Rey, as well as a soft minerality and silky mouthfeel to the wines. Julien Montagne makes complex wines that truly represent his vineyards and his Catalan roots--you can almost smell the sun.

This is a wine made in the vineyards-- truly authentic. This wine is great with BBQ fish, salads, antipasti




Critical Praise



Comments
You may also like...

Greco di Tufo, Campania, Italy, 750mL, 12 bottles per case
Intense yellow in the glass with notes of ripe peach, apple and citrus. Rich and juicy with perfectly balanced acidity, minerality and a long persistent fini...


Valdeorras, Galicia, Spain, 750mL, 6 bottles per case
Bodegas Valdesil can be traced back to 1885, when an ancestor of the Prada family (the current owners), planted the first Godello vines on the high, slate hi...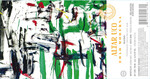 Argentina, 750mL, 6 bottles per case
The 2021 Edad Moderna Blanco has changed to a blend of 70% Sauvignon Blanc (from Gualtallary) and 30% Chenin Blanc (from an old vineyard in Vila Seca) with o...