Shop For Wine
Buy wine online! select from hundreds of wines you can only find in restaurants. Whether you are searching for a full bodied cabernet sauvignon or a fresh and fun prosecco, WineWire has the wine for you.
Subscribe to our free newsletter for the inside scoop on great wines & upcoming wine events
Subscribe
Can't find the wine you love?
We can find it for you!"
Find My Wine
Featured Products
New @ Winewire
Trending Wine






Crew Sauvage Niagara 2018 Chardonnay & Pinot Noir Mixed Case From Nicholas Pearce Wines

Wine Type:
Style of Wine:
Various
Country of Origin:
Canada
Wine Region:
Ontario
Appellation:
Niagara Peninsula
Grape Varietal:
Chardonnay and Pinot Noir
Bottle Format:
750mL
Case Size:
12 bottles

$299.40 Per Case ($24.95/btl)



Add to Cart


Tasting Notes

This mixed case includes 12 bottles: 6 bottles of Chardonnay and 6 bottles of Pinot Noir.

Two true Niagara Villages wines focused on a blend of organic, biodynamic and uncertified sustainably farmed vineyards throughout the Peninsula with a focus on Quarry Road (Vinemount Ridge), Cherry Road (Twenty Mile Bench) & the Kocsis - Red Foot Vineyard (Lincoln Lakeshore).

Mostly Wild ferments with a 12 month elevage in 228 litre French oak barrels. A small portion of new oak, but mostly 1-3 year old barrels.

The 2018 vintage in Niagara marks a full and warm growing season, with just the right amount of heat and rain, all at the right times. A vignerons dream, but a bankers nightmare as crops came in showing low yields with great quality.
These Crew Sauvage 2018s have a remarkable balance of concentration and weight, while remaining fresh and lifted in their youth.

The 2018 Crew Sauvage wines are Vegan Friendly.
No animal derived products where used in production.




Critical Praise



Comments
You may also like...

Champagne, Champagne, France, 750mL, 6 bottles per case
If you are new to Champagne, these wines are a great introduction to the various styles you can enjoy from this iconic sparkling wine region. If you are a pa...


France, 750mL, 12 bottles per case
Enjoy 3 distinctly amazing wines from France, a 2016 Burgundian Pinot Noir, 2016 Burgundian Chardonnay, and a 2018 Suavignon Blanc that is a wonderful blend ...
Featured on WineWire TV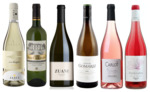 Various, 750mL, 12 bottles per case
This Mixed Case includes 12 bottles of wine of our favourite whites and rosés to beat the summer heat. Each case includes two bottles of the following wines:...
Featured on WineWire TV