Shop For Wine
Buy wine online! select from hundreds of wines you can only find in restaurants. Whether you are searching for a full bodied cabernet sauvignon or a fresh and fun prosecco, WineWire has the wine for you.
Subscribe to our free newsletter for the inside scoop on great wines & upcoming wine events
Subscribe
Can't find the wine you love?
We can find it for you!"
Find My Wine
Featured Products
New @ Winewire
Trending Wine






Domaine de Mauperthuis Mixed Case From Nicholas Pearce Wines 2018

Wine Type:
Style of Wine:
Smooth & Silky
Country of Origin:
France
Wine Region:
Burgundy
Appellation:
Chablis
Grape Varietal:
Chardonnay and Sauvignon Blanc
Bottle Format:
750mL
Case Size:
12 bottles

$443.40 Per Case ($36.95/btl)



Add to Cart


Tasting Notes

This Mixed Case includes 6 bottles of Domaine de Mauperthuis Chablis Goutte de Lune 2018 and 6 bottles of Domaine de Mauperthuis Sauvignon Blanc, AOC Saint Bris 2018. Both wineshave been organically farmed and wild fermented.

About the Domaine de Mauperthuis Chablis Goutte de Lune 2018...
This old vines Chardonnay saw 12 months in foudres, on the lees, with fruit gathered from vineyards in Fleys. The cool spot comes with a higher altitude, on a windswept plateau and so harvest is generally five to six days later.
And so their Chablis is cool, direct, taut and sapid stuff, as Chablis will go, from such a climat and handled so. Acidity runs rampant and travels quickly up and down and into parts of the mouth that stand up to take notice. Sharp and focused Chablis. On the nose it has beautiful zesty, creamy and mineral notes.
Keep it chilled in the fridge, uncork it at the end of the day, pour yourself a glass and enjoy it! Pair it with oysters, all kinds of fish dishes, and even roasted chickens. It's a coup-de-coeur!

"There are whispers that Burgundy 2018 is one of the greatest ever vintages." Decanter, Tim Atkins

About the Domaine de Mauperthuis Sauvignon Blanc, AOC Saint Bris 2018...
​This is by far one of the coolest Sauvignon Blanc wines we have ever tasted. This white wine is made next door to Auxerre, in the region of Chablis. It's kind of a unicorn wine: in Burgundy, Chardonnay and Aligoté are the only white varieties allowed to be grown. However, there are some exceptions, and Saint-Bris is one of them!
This white Burgundy is made from the Sauvignon grape. It has a pale straw or light gold color. On the nose, it has aromas of citrus fruits (grapefruit, mandarin orange), peach, and crushed blackcurrant leaves with sometimes exotic scents (lychee). This complexity introduces a fruit which is full, flowery and tender, with a hint of salt and spice in the finish. Jammy and preserved-fruit aromas will appear as the wine ages. This is a wine that can be either enjoyed young or after having aged a few years.
This wine calls for oysters and all kinds of fish! It's also a wonderful choice with herb-driven sauces over chicken and fish dishes. We also love pairing it with Vietnamese and Thai meals with tons of lemon-grass, and fresh cheeses such as feta or goat cheese.




Critical Praise



Comments
You may also like...

Champagne, Champagne, France, 750mL, 6 bottles per case
If you are new to Champagne, these wines are a great introduction to the various styles you can enjoy from this iconic sparkling wine region. If you are a pa...


France, 750mL, 12 bottles per case
Enjoy 3 distinctly amazing wines from France, a 2016 Burgundian Pinot Noir, 2016 Burgundian Chardonnay, and a 2018 Suavignon Blanc that is a wonderful blend ...
Featured on WineWire TV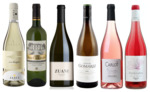 Various, 750mL, 12 bottles per case
This Mixed Case includes 12 bottles of wine of our favourite whites and rosés to beat the summer heat. Each case includes two bottles of the following wines:...
Featured on WineWire TV