Shop For Wine
Buy wine online! select from hundreds of wines you can only find in restaurants. Whether you are searching for a full bodied cabernet sauvignon or a fresh and fun prosecco, WineWire has the wine for you.
Subscribe to our free newsletter for the inside scoop on great wines & upcoming wine events
Subscribe
Can't find the wine you love?
We can find it for you!"
Find My Wine
Featured Products
New @ Winewire
Trending Wine






"Italian Sweethearts" Valentine Sampler Pack

Wine Type:
Style of Wine:
Light & Fruity
Country of Origin:
Italy
Grape Varietal:
Corvina , Negroamaro, Pinot Noir, Glera, and Primitivo
Bottle Format:
750mL
Case Size:
6 bottles

$234.78 Per Case ($39.13/btl)



Add to Cart


Tasting Notes

One bottle each of six wines from our "Italian Sweethearts" themed collection. Perfect for celebrating Valentine's Day!

PIANDACCOLI "BACIAMI" SPARKLING ROSÉ BRUT 2018
[100% Mammolo]
[FRUITY & CRISP]
From the Chianti DOCG region and made from a little-known grape, this is a delightful and surprisingly complex wine. The color is a slightly pale pink reminiscent of elegant Provençal nectars. The perlage is intense and fairly persistent. The nose has clear floral and fruity notes, with small red fruits (raspberry, blackberry and black currant) predominating, and a subtle citrus flavor interspersed with light and pleasant mineral deposits. In the mouth it is delicately exuberant; fruit-forward but fresh and crisp at the same time.

LE BIGNELE "LU.MI" ROSÉ VERONESE IGT 2018
[Corvina , Corvinone, Rondinella, and Molinara]
[LIGHT & FRUITY]
From the Valpolicella Classico region, and made with the region's traditional grapes, this wine has a beautiful pink color and fruity aroma. Nicely dry and fresh on the palate.

TRULLO DI PEZZA "NINELLA" ROSSO SALENTO IGP 2015
[80% Negroamaro, 20% Primitivo]
[EARTHY & SPICY]
Ripe red fruit and a hint of cocoa on the nose. Full-bodied and beautifully balanced with flavors of dark cherries accented with spicy and herbal notes.

ANGORIS "1648" SPARKLING ROSÉ BRUT 2009
[100% Pinot Noir]
[RICH & CREAMY]
From a historic estate winery that once supplied the royal courts of Europe. The colour is onion-skin copper with fine and persistent perlage. On the nose, delicate raspberry and strawberry aromas mingle with floral, mineral, and yeast notes. On the palate, it is soft, fresh, creamy, balanced, and persistent.

LE RUGHE PROSECCO DOC BRUT NV
[100% Glera]
[LIGHT & CRISP]
From one of the oldest wineries in Valdobbiadene-Conegliano, the heartland of Prosecco. Brilliant, light-straw yellow with persistent perlage. On the nose, medium intensity and delicate aromas of grapefruit. The palate has citrus, acacia, pear and apple, and the very pleasant combination of acidity, effervescence and sweetness lead to a lingering, complex finish.

ROCCA VINI "AMORNERO" ROSSO SALENTO IGT 2017
[Blend of Primitivo and Negroamaro]
[BIG & BOLD]
Aromas of ripe dark berries such as blackberries and blackcurrants, paired with notes of prunes and raisins, licorice, cinnamon and spices. These aromas are reflected on the palate. The wine is soft and round, medium bodied and well balanced on the palate, with a very pleasing finish.




Critical Praise

BACIAMI:
91 James Suckling



Comments
You may also like...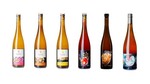 Alsace AOC, Alsace, France, 750mL, 6 bottles per case
Each case contains one bottle of the following wines: La Vigne en Rose 2018. This off-dry blend of Gewürztraminer and Riesling comes from 40 year old vin...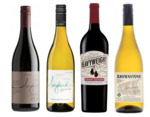 Various, 750mL, 12 bottles per case
A mixed red and white case highlighting the top varietals from both New Zealand and California. Longbend Pinot Noir 2017 (NZ) A lovely vibrant coloured...


Italy, 750mL, 12 bottles per case
The complete "Italian Sweethearts" collection, made up of quality, authentically made Rosé, Prosecco, Sparkling Rosé, and Red wines as shown in the photo and...