Shop For Wine
Buy wine online! select from hundreds of wines you can only find in restaurants. Whether you are searching for a full bodied cabernet sauvignon or a fresh and fun prosecco, WineWire has the wine for you.






Airen Imports California Dreaming

Wine Type:
Style of Wine:
Various
Country of Origin:
Various
Grape Varietal:
Various
Bottle Format:
750mL
Case Size:
12 bottles

$257.40 Per Case ($21.45/btl)



Add to Cart


Tasting Notes

Dream of sunny California while enjoying a selection of wines from California.

N/V Brownstone Chardonnay
Crisp citrus flavours are enhanced by an extended cool fermentation and pleasant acidity.

2020 Heavyweight Cabernet Sauvignon
The sweet aromatics of this big bold Cabernet, with smooth tannin, black & raspberry currents followed by other dark fruits flavors. Finishing strong yet balanced rich sweet fruit.

N/V Brownstone Cabernet Sauvignon
Medium body with light but present tannin, baking spices and rich stewed fruit dominate the aromatics, while sweet dark fruit & cinnamon balance out the hot Lodi fruitful finish.

N/V Brownstone Merlot
Sweet and spicy aromatics, with hints of plum, baking spices & vanilla. Followed by a balance of smooth and silky dark fruits finishing medium length with minimal astringency.




Critical Praise



Comments
You may also like...

Veneto, Italy, 750mL, 12 bottles per case
This mix case contains 6 bottles of Vigna Lisa 2020 Veneto IGT Pinot Grigio and 6 bottles of 2020 Vigna Lisa Veneto IGT Cabernet Sauvignon. The Pinot Grigio ...


Napa Valley, California, USA, 750mL, 6 bottles per case
This classic mix case 3.0 contains 2 bottles of each 2017 J. McClelland Cellars Napa Cabernet Sauvignon, 2017 J. McClelland Cellars Napa Valley Chardonnay, a...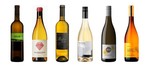 Various, 750mL, 6 bottles per case
Each case contains one bottle of the following wines: Zidarich Vitovska 2018, IGT Venezia Giulia, Friuli, Italy. $57.95 Vitovska is an indigenous grape s...