Shop For Wine
Buy wine online! select from hundreds of wines you can only find in restaurants. Whether you are searching for a full bodied cabernet sauvignon or a fresh and fun prosecco, WineWire has the wine for you.
Subscribe to our free newsletter for the inside scoop on great wines & upcoming wine events
Subscribe
Can't find the wine you love?
We can find it for you!"
Find My Wine
Featured Products
New @ Winewire
Trending Wine






Le Sommelier Mixed Case: Orange Wines

Wine Type:
Style of Wine:
Various
Country of Origin:
Various
Grape Varietal:
Bottle Format:
750mL
Case Size:
6 bottles

$307.44 Per Case ($51.24/btl)



Add to Cart


Tasting Notes

Each case contains one bottle of the following wines:

Aphros Phaunus Amphora Loureiro 2019, Sub-Região do Lima, Vinho Verde, Portugal. $39.95
Hard to be more natural than Aphros' founder and winemaker Vasco Croft. He made this wine, and others in the Phaunus range, without electricity. This biodynamically farmed and produced loureiro was crushed, destemmed, and pressed by hand power, then native fermented on skins in a large beeswax-lined talha (the traditional clay amphorae of Alentejo) for 7 months before it was bottled without filtration. Pouring slightly cloudy in the glass, this rings with tight apricot oil, elderflower, marmalade, tangerine peel and pith. Ample tight nimble pithiness grips along the sides. Very alive, long, and vibrant in the mouth, finishing with lightly warming honeycomb. Pure, clean, focused amber wine, surprisingly concentrated for 11.5 degrees, and a lovely different view of Loureiro.

FitaPreta a Laranja Mecânica 2019, Alentejo, Portugal. $28.95
This is a new orange wine release from Antonio Maçanita, his Clockwork Orange. Arinto, Roupeiro, Verdelho, Antão Vaz, Alicante Branco, Trincadeira-das-Pratas, Fernão Pires make up the Alentejo coferment blend, from various vineyards and vines 15-50 years old, on granite soils. After the first whole bunch pressing, 10-15% of the remaining juice macerated on the skins for a week, and then was pressed again and reunited with the whole, where it native fermented. It remained in stainless on lees until it was bottled, unfiltered, the following fall. Pouring a hazy golden hue, this orange wine is teeming with alluring bergamot, quince, and stencilled with finely grippy tannins and that characteristic granitic hum. Fantastic texture, salinity, and moreishness in this medium bodied wine.

Loimer Gluegglich NV, Gumpoldskirchen, Austria. $23.95
This new biodynamic orange wine blends Zierfandler, Rotgipfler, Riesling, Chardonnay, Traminer, and Muskateller from sedimentary, limestone gravels, and vines up to 85 years old in the Gumpoldskirchen. This was partial whole cluster native fermented in barrels (some lots on skins) for 8-10 months on full lees. This dry wine was bottled without fining or filtration.

Zidarich Vitovska Green 2019, Venezia Giulia, Friuli, Italy. $39.95
Vitovska is an indigenous grape specific to the Friulian region of Carso, a very rocky region that borders Slovenia. It is a natural cross between Malvasia Bianca Lungo and Prosecco Tondo. Benjamin and his wife Marisa Zidarich tend 8 hectares here in a naturalist, non-intervention vein. Green is their more youthful and approachable Vitovska, from 4-10 year old vines grown on extremely rocky calcareous soils between 260-280m in altitude. After native ferment and a short time on the skins, this spent 13 months in old Slovenian oak before being bottled unfined and unfiltered. Wild lemon, tangerine, white florals, pink grapefruit on a brisk, bright palate, with a gentle cushion of lees, sharpened with apricot skin and grapefruit pith, and slightly gripped on the sides. Acidity is lively and the finish is astringent, all encouraging another glass.

Le Ragnaie Vino Bianco 2018, Toscana, Italy. $44.95
From the highest planted vineyards in Montalcino this skin contact wine blends the traditional white grapes of the area in a 50/50 Trebbiano and Malvasia mix. After a native ferment in stainless for 10 days on skins, this moved into one new 500L French oak barrel for 9 months, prior to bottling unfined, with minimum sulphur.

Hajszan Neumann NATURAL Gemischter Satz 2017, Vienna, Austria. $55.95
The grapes for this natural Gemischter Satz 2016 come from two old vineyards on the Wiener Nußberg: Ried Weissleiten, and Ried Ulm. The soil of both is comprised of limestone and clay, with a very high chalk component throughout. Gemischter Satz is a traditional field blend from allowable Austrian quality grapes, with a minimum of three grapes. The 2016 is a blend of Grüner Veltliner, Welschriesling, Pinot blanc, Riesling, and Traminer, native fermented on skins in concrete eggs with no sulphur or other additions. Post-ferment, it remains in the eggs for more than 5 months, after which it is racked off into neutral 500L barrels where it rested for 6 weeks before bottling unfined and unfiltered. Concentrated and heady, with dried apricot, dried peach, dried blossoms, quince, lychee, lime pith and orange oil, coated with a medicinal white cherry. There's an ample fine grip and a heap of tension to keep this textural, natural, biodynamic orange wine alive to the finish. So much going on in this complexed wine, and it all works.




Critical Praise

Estimated delivery time is 3-10 business days



Comments
You may also like...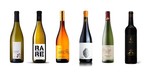 Various, 750mL, 12 bottles per case
Each case contains two bottles of the following wines: Whites: Blanville Vermentino IGP Pays d'Oc 2019, Languedoc, France. Château Haut-Blanville i...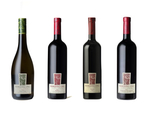 Okanagan Valley, British Columbia, Canada, 750mL, 12 bottles per case
Each Burrowing Owl mixed case contains three bottles of the following wines: White: Pinot Gris 2019, BC VQA Okanagan Valley From Burrowing Owl estat...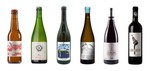 Various, 750mL, 6 bottles per case
Each case contains one bottle of the following wines: Whites: Suertes del Marqués Trenzado DO Valle de la Oratova 2019, Tenerife, Canary Islands, Spa...