Shop For Wine
Buy wine online! select from hundreds of wines you can only find in restaurants. Whether you are searching for a full bodied cabernet sauvignon or a fresh and fun prosecco, WineWire has the wine for you.






Mix of Six 90 point wines : Wilson Wines

Wine Type:
Style of Wine:
Various
Country of Origin:
Various
Grape Varietal:
Bottle Format:
750mL
Case Size:
6 bottles

$161.70 Per Case ($26.95/btl)



Add to Cart


Tasting Notes

All wines have press over 90 points from major international wine critics

Terra Alta Pinot Grigio, Veneto, Italy, 2018
A clean flavourful pinot grigio from the Northern reaches of Italy, waxy and honeyed, medium-bodied with concentration and depth above the mean. Ripe Citrus and orchard fruit mingle with floral tones in a complex expression. Good length too. Fine Value- 90 Points John Szabo

Il Maggio Chianti Classico DOCG 2017, Tuscany.
A terrific value from Castellina in Chianti. Combines a ray of pure cherry with coffee, spice, wild herb, and tobacco flavours in a seamless way, while sanguine and iron elements chime in on the finish. Balanced, elegant, with a lingering, complex aftertaste.

Tievoli (I LOVE IT) Cabernet Blend,2018, California
Deep garnet in color and composed of complex aromas of black currant, cedar, and vanilla. The wine is full-bodied with echoing aromas on the palate, and the finish is abundant in textured tannins, yet smooth and velvety

XENYSEL PIE FRANCO, 2017 JUMILLA, SPAIN (ORGANIC)
Xenysel is a family-owned winery from Jumilla Spain producing powerful full-bodied and balanced wines. These wines regularly make 'best value' lists. This wine offers excellent value for money. Powerful, focused peppery, smoky nose, and a plump succulent palate – appealing and beautifully balanced. A rich and quite delicious red.

Chateau Clos Mansio 2016, Bordeaux France
70% Merlot, 30% Malbec. The tannins are expected to soften with age and the wine's wonderful acidity is likely to be preserved, going on to reveal oaky spicy notes with a tight brilliant finish.- 90 points
About the region: Blaye Côtes de Bordeaux, a modern and dynamic appellation whose wines are accessible and friendly as its winegrowers. To sum it up: outstanding wines at a fraction of the cost. Cotes de Blaye is a lesser-known hilly region located on the right bank. It's a source of great accessible reds driven by fresh fruity forward notes.




Critical Praise

Each wine holds press over 90 points from well known international wine critics.

Includes 2 bottles of Pinot grigio and 1 bottle of each red.



Comments
You may also like...

Napa Valley, California, USA, 750mL, 6 bottles per case
This classic mix case 3.0 contains 2 bottles of each 2017 J. McClelland Cellars Napa Cabernet Sauvignon, 2017 J. McClelland Cellars Napa Valley Chardonnay, a...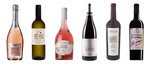 Various, 750mL, 12 bottles per case
Each case contains two bottles of the following wines: Sparkling: Perlage Afra Rosé Prosecco Extra Dry 2020, Veneto, Italy. $19.95 Perlage is one o...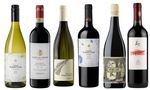 Various, 750mL, 12 bottles per case
DISCOVER some of our best value wines in this Mixed case all well-rated by top wine critics. 2 bottles of each wine below, 4 Whites, 8 Reds Terra Alta ...