Shop For Wine
Buy wine online! select from hundreds of wines you can only find in restaurants. Whether you are searching for a full bodied cabernet sauvignon or a fresh and fun prosecco, WineWire has the wine for you.
Subscribe to our free newsletter for the inside scoop on great wines & upcoming wine events
Subscribe
Can't find the wine you love?
We can find it for you!"
Find My Wine
Featured Products
New @ Winewire
Trending Wine






Le Sommelier mixed case: Niepoort

Wine Type:
Style of Wine:
Various
Country of Origin:
Portugal
Wine Region:
Douro
Grape Varietal:
Various
Bottle Format:
750mL
Case Size:
12 bottles

$318.12 Per Case ($26.51/btl)



Add to Cart


Tasting Notes

This 12 bottle case features the following wines from Niepoort's winery in Portugal's Douro Valley.

Diálogo Branco 2018 (4 bottles)

"This youthful white may show a comic on the label, but make no mistake, this is a serious wine, from one of the world's top winemakers, Dirk Niepoort. From schistous, mica-flecked vineyards on the right bank of the Douro, between 550-700m, this blend of indigenous Portuguese white grapes is native fermented in a split between stainless and older French barriques (30 percent), with no MLF, and remains there for eight months. The blend is 20-50 year old rabigato, códega do larinho, gouveio, dona branca, viosinho, bical and others. Tight with green apple and green fig, citrus, sour melon, lees, lemon thistle, meadow grass and a wash of fine salts, finishing with a lips making lemony acidity. So smashable, and such a fantastic price (especially in ON)." - 89 Points Gismondi on Wine

Diálogo Tinto 2018 (4 bottles)

This youthful red may show a comic on the label, but make no mistake, this is a serious wine, from one of the world's top winemakers, Dirk Niepoort. This is a blend of Touriga Franca, Touriga Naçional, Tinta Roriz, Tinta Amarela from the Cima Corgo's schistous soils, and vines up to 40 years in age. This was native fermented in stainless, and aged in a mix of stainless and oak for 6 months. Dusky plum, thorny wild blackberry, black raspberry on a slender, fresh, slightly graphite gripped palate, finishing with a dusting of broken stones and a hum of minerality.

NAT'Cool! Voyeur Tinto Amphora 2018 (2 bottles)

"This is a blend of red and white grapes from different vineyards at different heights. Pale red in colour. Very fine and expressive with a sappy edge to the juicy red fruits palate. Very fine grained structure with good acidity. A linear, juicy style. So pure and elegant with nice purity: very Niepoort." - 95 points Jamie Goode's Wine Anorak

Dry White Port NV (1 bottle)

"This dry white is a blend of Côdega, Rabigato, Viosinho, Arinto and Gouveio from Douro's Covelinhas and Pombal vineyards and vines upward of 30 years. After fermentation in open lagares, this aged in small old oak casks for 3.5 years before release. It is on the drier side of White Ports, with a lovely wash of salinity that counters the golden raisin, savoury marmalade, honeysuckle, dried oolong tea, broken stones, salt-roasted almonds, finishing with creamy warming marzipan notes. Lovely solo sipping (on the rocks) and ideal for a Port Tonic. Fantastic value." - 90 points Gismondi on Wine

Tawny Port NV (1 bottle)

"From three schistous soiled vineyards in the Douro and vines upwards of 30 years, this is a blend of Touriga Nacional, Touriga Franca, Tinto Cão, Tinta Francisca, Tinta Amarela, Sousão, Tinta Roriz, fermented in lagares with foot treading, and aged in small oak casks for 3.5 years. Mouthfilling and welcoming, with dried raisins, dark butterscotch, caramel kisses and hints of dark cocoa. The sweetness is held in check, thankfully, by a striving acidity. Beauty for drinking now." - 89 points Gismondi on Wine




Critical Praise

If one had to pick the winemaker that has had the greatest impact on not only Douro wines, but Portuguese wines in general, it would be Dirk Niepoort. Easily one of the world's top winemakers, Dirk's insight extends beyond soils, grapes and blends, and into humans, predicting and driving the wines that today's wine lovers, of all ages and backgrounds, are interested in drinking.

While upholding his family's history in Port wine, dating back to 1842, this fifth generation Niepoort has led the path for future generations to follow in both dry and Port wines. Independent, low-interventionist winemaking (biodynamic practices since 2012), earlier picking times, and clever marketing has created fresh wines both inside and outside of the bottle. There is little Dirk's ceaseless mind hasn't touched: natural, sparkling, and highly experimental wine, the latter category being labelled either as 'undrinkable', or 'incredible' by well-known wine critics. The soft-spoken Dirk deftly combines tradition with innovation, equally using granite lagares and ancient autochthonous grapes alongside sharp social media, alliances with artists, and collaborations with other winemakers around the world (including our own Suertes del Marqués from Tenerife), through his Niepoort Projectos projects, and the natural, smashable, NAT'Cool! wines.

Estimated time of delivery is 3-10 business days.



Comments
You may also like...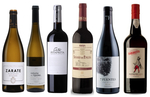 Various, 750mL, 12 bottles per case
Each case contains two bottles of the following wines: White: Zárate Albariño Val do Salnés 2019, Rías Baixas, Spain Founded in 1707, the family ow...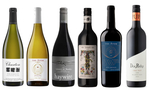 Various, 750mL, 12 bottles per case
Each case contains two bottles of the following wines: Whites: Churton Sauvignon Blanc 2018, Marlborough, New Zealand From their organic and biodyn...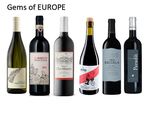 Various, 750mL, 12 bottles per case
An amazing selection of European 90 point wines.... Contains 2 whites, 10 reds. Terra Alta Pinot Grigio, Veneto, Italy, 2018 A clean flavourful pinot g...