Shop For Wine
Buy wine online! select from hundreds of wines you can only find in restaurants. Whether you are searching for a full bodied cabernet sauvignon or a fresh and fun prosecco, WineWire has the wine for you.
Subscribe to our free newsletter for the inside scoop on great wines & upcoming wine events
Subscribe
Can't find the wine you love?
We can find it for you!"
Find My Wine
Featured Products
New @ Winewire
Trending Wine






Le Sommelier Mixed Case: European Tour

Wine Type:
Style of Wine:
Various
Country of Origin:
Various
Grape Varietal:
Chardonnay, Various, Muskateller, and Barbera
Bottle Format:
750mL
Case Size:
6 bottles

$363.84 Per Case ($60.64/btl)



Add to Cart


Tasting Notes

Each case contains one bottle of the following wines:

Whites:

Suertes del Marqués Trenzado DO Valle de la Oratova 2019, Tenerife, Canary Islands, Spain.
From Tenerife's volcanic soils, this is based on Listán Blanco, with a mix of 10-150 year old native grapes Marmajuelo, Guao, Vijariego Blanco, Verdelo, Torrontés and Baboso Blanco sourced across various vineyards 300-700m in the Valle de La Orotava, and predominantly grown in the traditional cordón trenzado training system. After native ferment in a mix of concrete and older French casks, this aged nine months on lees in concrete, foudres, and older 500L barrels. Intrinsically and fantastically marine, with a deep thread of salinity and reduction throughout the slender, medium palate of pear skin, kernel, and meadow herbs. Texture is very grippy fine, and brisk acidity keeps this vibrating along the palate to a lingering finish.

Pascal Clément Saint Romain 2016, AOC Bourgogne, France.
From Saint Romain, a region larger and less well known than Saint-Aubin (thus a hidden gem for value-seekers), this was native fermented in foudres, where it was held for a year. Pascal, well known for his exceptional white wines, loves using older large barrels for his whites, as he feels it brings out the saltiness in the wine. Pascal also never uses bâtonnage on his wines, leaving them on full lees in barrels after pressing. This is a powerful white, expansive on the medium-bodied palate, with candle wax, perfumed white florals, pear, and driving mineral salts through the long finish. Great energy and verve. Very youthful still.

Orange:

Hajszan Neumann NATURAL Muskateller 2018, Vienna, Austria.
A pierce of apricot and orange oil drives through elderflower, sour mash, and Asian pear on this slim, grippy, and brisk natural wine. Biodynamic, and natural, this Muskateller came from the limestone, clay and chalk soils of Neuberg vineyard, on the Wiener Nussberg. The wine native fermented on skins in concrete eggs, staying there for five months, after which it was carefully racked to older 500L barrels where it remained for 6 weeks. This went to bottle without fining, filtration or sulphur. Natural is Fritz Wieninger's experimental range of wines.

Aphros Phaunus Amphora Loureiro 2019, DOC Vinho Verde, Portugal.
Hard to be more natural than Aphros' founder and winemaker Vasco Croft. He made this wine, and others in the Phaunus range, without electricity. This biodynamically farmed and produced loureiro was crushed, destemmed, and pressed by hand power, then native fermented on skins in a large beeswax-lined talha (the traditional clay amphorae of Alentejo) for 7 months before it was bottled without filtration. Pouring slightly cloudy in the glass, this rings with tight apricot oil, elderflower, marmalade, tangerine peel and pith. Ample tight nimble pithiness grips along the sides. Very alive, long, and vibrant in the mouth, finishing with lightly warming honeycomb. Pure, clean, focused amber wine, surprisingly concentrated for 11.5 degrees, and a lovely different view of Loureiro.

Reds:

Bruno Giacosa Barbera d'Alba DOC 2018, Piemonte, Italy.
One of the legendary winemakers of the world, Bruno Giacosa crafted the most prestigious single-vineyard Barolo and Barbaresco wines during a career that spanned nearly eight decades. He joined the family business at the age of 15, representing the third generation of his Langhe winemaking family. His daughter, Bruna, now carries on the legacy.From select vineyards in the villages of Neive, and Alba, this youthful red was fermented and aged in stainless before moving to oak for 14 months' rest. Expressive aromas typical of Barbera with cherry and forest fruit notes matched with a balanced, lively mouthfeel and acidic freshness on the finish.

Le Ragnaie Miscellone IGT Toscana Rosso 2019, Toscana, Italy.
Though Le Ragnaie has only produced this 'Miscellaneous wine' in the last few years, blending red and white grapes is certainly part of the traditional Chianti 'recipe'. Miscelone is 60% red grapes (Sangiovese and Canaiolo) and 40% white grapes (Malvasia and Trebbiano), sourced from the same vineyard, coharvested and cofermented in concrete, and then aged for 6 months in concrete. This chillable, non-intervention red opens with a wall of reduction that quickly blows off into red cherry, liquorice, leather, and an ample wash of sea salts. Tannins are sandpaper fine and acidity is nervous to a taut, brisk finish. Charmer; chill and drink now and over short term.




Critical Praise

Fill your wine passport with this whirlwind tour around Europe's classic wine regions: France, Spain, Italy, Portugal, and Austria.



Comments
You may also like...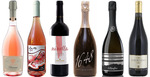 Italy, 750mL, 6 bottles per case
One bottle each of six wines from our "Italian Sweethearts" themed collection. Perfect for celebrating Valentine's Day! PIANDACCOLI "BACIAMI" SPARKLING RO...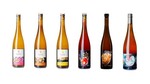 Alsace AOC, Alsace, France, 750mL, 6 bottles per case
Each case contains one bottle of the following wines: La Vigne en Rose 2018. This off-dry blend of Gewürztraminer and Riesling comes from 40 year old vin...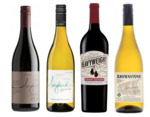 Various, 750mL, 12 bottles per case
A mixed red and white case highlighting the top varietals from both New Zealand and California. Longbend Pinot Noir 2017 (NZ) A lovely vibrant coloured...