Shop For Wine
Buy wine online! select from hundreds of wines you can only find in restaurants. Whether you are searching for a full bodied cabernet sauvignon or a fresh and fun prosecco, WineWire has the wine for you.
Subscribe to our free newsletter for the inside scoop on great wines & upcoming wine events
Subscribe
Can't find the wine you love?
We can find it for you!"
Find My Wine
Featured Products
New @ Winewire
Trending Wine






White, Rose, Prosecco : MiXeD Case

Wine Type:
Style of Wine:
Light & Crisp
Country of Origin:
Various
Grape Varietal:
Pinot Grigio, Prosecco, Chardonnay, Grüner Veltliner, and Verdejo
Bottle Format:
750mL
Case Size:
12 bottles

$299.40 Per Case ($24.95/btl)



Add to Cart


Tasting Notes

There's a range of wine styles in each case. Of course, you can tick off the classics: Provence rosé, Prosecco & Pinot Grigio. But there's also some nice surprises in there – a lively fresh Gruner Veltliner from Austria & an amazing Organic Verdejo from Spain.

Whatever the occasion, you're sure to find something just right –

TWO BOTTLES of Each wine below:

Il Concerto Prosecco, Friuli, Italy
A tasty and versatile Prosecco from the hills of Conegliano and Vittorio Veneto. We produce this DOC Prosecco Brut for more than 25 years. The features are always the same: fresh, fruity, and fragrant. Il Concerto draws all its intense and varied flavour, with hints of sour apple and white peach, followed by a slight bitter tinge. A very complex fragrance, ranging from fresh citrus to golden apple, up to wildflower honey.

Terra Alta Pinot Grigio, Veneto, Italy, 2019
A clean flavourful pinot grigio from the Northern reaches of Italy, waxy and honeyed, medium-bodied with concentration and depth above the mean. Ripe Citrus and orchard fruit mingle with floral tones in a complex expression. Good length too. Fine Value- 90 Points John Szabo-

Finca Martha Chardonnay,2020 Mendoza, Argentina
Subtle delicate pale green color with yellow tones. Aromas of white peaches, white flowers, and green apple. It enters soft and fresh in the mouth, with intense flavor. It has a pleasant lingering finish.

Pure EST. Verdejo - Organic 2020, Spain
Verdejo ( Vurr-day-ho) is an outstanding alternative to Sauvignon Blanc or Pinot grigio. Verdejo is a variety grown in Spain since the 11th Century! The grapes enter fresh to the cellar (night temperatures), giving birth to this crispy wine with exotic aromas of lime, green lemon and fennel. Ready for the party? A great food wine due to it's higher acidity and subtle bitterness acting as a palate cleanser. As a general rule, if you put lime in your meal, it will probably pair well with Verdejo!

Zull Gruner Veltliner, Austria,2019
Lemon, wet stone, green apple and melon on the nose spell freshness and ease. The palate provides just that on a slender, fruit-driven, apple and melon body with just a little spritz and tons of freshness.

Crazy Tropez Rose 2020, Provence, France
No summer afternoon is completer without a little bit of pale pink wines from Provence.
70% Grenache, 30 % Cinsault. Pink Colour with salmon reflections. Fresh and aromatic nose with notes of citrus and exotic fruits. Nice balance between sweetness and acidity. Lovely, delicious, and fresh.




Critical Praise

Finca Martha Chardonnay, 2020 Mendoza, Argentina-89 points James Suckling

Terra Alta Pinot Grigio-90 points Wine Align

Zull Gruner Veltliner 2019-90 poins by Falstaff



Comments
You may also like...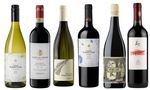 Various, 750mL, 12 bottles per case
DISCOVER some of our best value wines in this Mixed case all well-rated by top wine critics. 2 bottles of each wine below, 4 Whites, 8 Reds Terra Alta ...


Italy, 750mL, 12 bottles per case
This mix case 'From the Heart of Italy' consists of 4 wines from 2 special wineries in Umbria, Cantine Briziarelli and Castello Monte Vibiano. You get 3 bo...


Piedmont, Italy, 750mL, 6 bottles per case
Nestled in the heart of Piedmont, Massimo Rivetti has been established in the region since 1947. Specializing in Nebbiolo, this well-respected winemaker has ...