Shop For Wine
Buy wine online! select from hundreds of wines you can only find in restaurants. Whether you are searching for a full bodied cabernet sauvignon or a fresh and fun prosecco, WineWire has the wine for you.
Subscribe to our free newsletter for the inside scoop on great wines & upcoming wine events
Subscribe
Can't find the wine you love?
We can find it for you!"
Find My Wine
Featured Products
New @ Winewire
Trending Wine






Fabulous World Reds (Mixed Case) NV

Wine Type:
Style of Wine:
Big & Bold
Country of Origin:
Various
Grape Varietal:
Tempranillo, Cabernet Sauvignon, Sangiovese, Shiraz, and Merlot
Bottle Format:
750mL
Case Size:
12 bottles

$299.40 Per Case ($24.95/btl)






Tasting Notes

The perfect 12 bottle mix of wines from around the globe for a tremendous value. Host your own tasting with friends & family or keep them all for yourself, there's no wrong way to try this wine tasting set!

Your case includes 2 bottles each of these wines.

Rotation Cabernet Sauvignon, California-2019
Very rich and ripe, this lip-smacking wine has abundant grapey jammy blackberry-like aromas and flavors, and a broad, mouth-filling texture. It's well-backed by moderate tannins to balance out all that fruit.

Terre del Bruno Chianti 2021 DOCG, Italy
A blend of 85% Sangivese, 10 % Canaiolo and 5% Colarino from Pogni Vineyard. Cherry and violet aromas with juicy intensity, accompanied by some creamy notes with slightly tannic flavours. Sweetly complex, well-balanced, and structured Chianti.

Pure EST Monastrell- Organic 2020,Spain
Farmed on organic vineyards, intervening as little as possible in all the production process, looking for the maximum notes of fruit and richness. Elegant and balanced aromas dance along the mouth exhibiting notes of plum and strawberries. Super value here!

Snake Charmer Shiraz Frankland River 2018, Australia
An exceptional, deep purple & vivid in colour with bright hues - with perfumed, lifted berries and spice on the nose, intense black fruits, dark chocolate and mocha notes across the mid-palate; wonderfully rich, layered, and textural; this wine literally coats the mouth - and finishes with soft, long and silky tannins and toasty oak nuances.

Korta K- 42 Merlot-2019, Chile
Enticing notes of plums, fresh herbs with a slightly toasted note from its oak aging. Really lovely, well balanced with a lingering finish. A perfect everyday wine!

Xenys Red 2020, Organic, Jumilla Spain
Young wine made from Monastrell grapes in Hoya de Torres Valley, at an altitude of 800 meters, where the fruit amplifies its unique character.




Critical Praise



Comments
You may also like...

Veneto, Italy, 750mL, 12 bottles per case
This mix case contains 6 bottles of Vigna Lisa 2020 Veneto IGT Pinot Grigio and 6 bottles of 2020 Vigna Lisa Veneto IGT Cabernet Sauvignon. The Pinot Grigio ...


Napa Valley, California, USA, 750mL, 6 bottles per case
This classic mix case 3.0 contains 2 bottles of each 2017 J. McClelland Cellars Napa Cabernet Sauvignon, 2017 J. McClelland Cellars Napa Valley Chardonnay, a...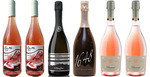 Italy, 750mL, 6 bottles per case
Lovely to look at and to sip, this mix of rosé and sparkling Italian wines make a tasteful gift. Quality and versatility are the hallmarks of these beauties....